Seiko Prospex X Mobile Suit Gundam Collaboration Models
Posted:
---
Gundam X Seiko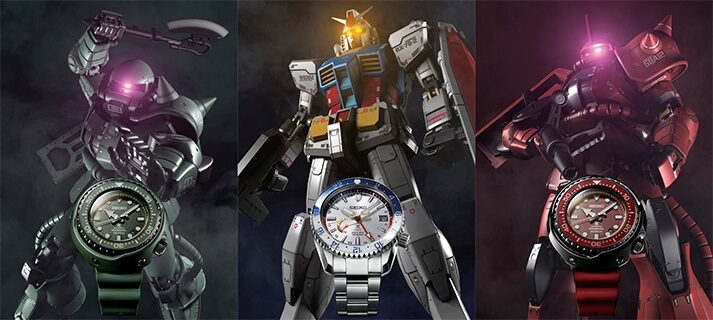 In honor of the hit anime franchise Mobile Suit Gundam, SEIKO watch makers have a special collaboration to celebrate the franchise's 40th anniversary. SEIKO will be releasing three limited-edition Gundam themed watches through their Seiko Prospex line of sport watches. The three watches are based on the Earth Commonwealth Army's RX-78-2 Gundam Suit, the Char's Red Zaku, and the mass produced Green Zaku.

The RX-78-2 design is based on Seiko Prospex LUX line of watches and features detailing reminiscent to the RX-78-2 from the anime. Decked out in the same red, white, blue with gold trimmings as the mobile suit, this luxurious watch includes additional RX-78-2 detailing on the side for clean look. The watch comes with an alternate watch band as well, to provide the wearer with a more versatile design no matter where they go.

The Zaku edition watches are based on the Seiko Diver line and includes a special silicon band straps that compliment the timepiece's colors perfectly. This diver watch can handle dives up to 1,000 meters below sea level without worry. Built with the resilience of the Zaku in mind, this diver watch has everything you'd expect from SEIKO with the anime flair from Gundam.

Each watch comes with a special Seiko Prospex box in matching colors and are built to the high-end standards SEIKO holds for all it's watches. This line of limited watches are sure to be a hit among Anime fans and watch collectors alike.
RX-78-2 Concept Art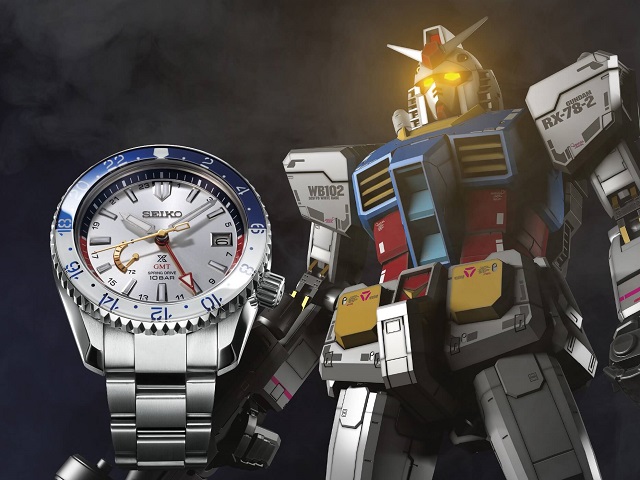 Like what you see? The mobile watches will be available from April 12 (Zaku Models) and August 9 (RX-78-2 model) in Japan and overseas. Prices range from ¥ 400,000 to ¥ 630,000 plus tax. If you're an anime fan with a penchant for Gundam, Seiko's line of watches may be for you. Act fast though, as there are only a limited 1,300 being produced according to Seiko's website.

Source and Photos: SEIKO Press Release Page