Japan Festival Tours Series
Tokyo International Great Quilt Festival Tours
Start the new year with an adventure you'll talk about for years to come. This is your chance to join us as we visit the magnificent Tokyo Dome convention center for the Tokyo International Great Quilt Festival! All of our tour packages include 2 days admission to the festival, in addition to the hottest quilt, textile, fabric, and stitch-related stores and museums in Tokyo!
Take this opportunity to browse through the famous Nippori Textile Town, filled with stores that are bound to have everything you need for your next project. We've put together well-balanced itineraries that focus on your passions, without scurrying away from some of the essential spots in Tokyo or Kyoto. If quilting is a passion of yours, you won't want to say No to our awesome packages!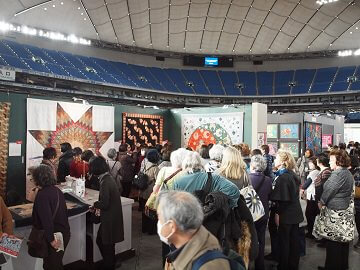 Departure Date(s)
10 Days

2019

Tokyo Kyoto(Osaka)

01/24
9 Nights 10 Days  From :  $4,298
Join over 250,000 during the annual Tokyo International Great Quilt Festival this winter. Our fully escorted Tokyo International Great Quilt Festival Tour will be visiting all the best Japanese handicraft and stitch-related destinations in Tokyo and Kyoto in addition to the Quilt Festival in Tokyo Dome! Surrond yourself with impressive collections of quilts, patchworks, workshops, and exchange tricks and advice with fellow quilters.

Our Japan Quilt Festival Tour travels from Tokyo to Kyoto with plenty of awesome stops in between, including the Quilt Party Retail Shop owned by famous quilter Yoko Saito where you can purchase all kinds of quilting materials, Nippori Textile Town for fabric shopping, and Kyoto Handicraft Center. We also spend some time visiting popular temples and shrines to get a feel for Japan's rich culture. There are plenty of museums that each cover a different form of handicraft art, including a bullet train ride to really get a feel for Japan's dynamic mix of old and new.

Shop to your hearts content through the best stores for fabrics, textiles, accessories, or whatever else you may need to make your next craft-masterpiece. This Japan Quilt Tour package is the ideal tour for quilt lovers to attend the Tokyo International Great Quilt Festival, shop at fabric and quilt material stores, and visit great landmarks of Japan. You can also extend your vacation before / after the tour in Tokyo, Osaka, and Kyoto.

Travel Japan one stitch at a time

Tokyo - Lake Kawaguchi - Nagoya - Kyoto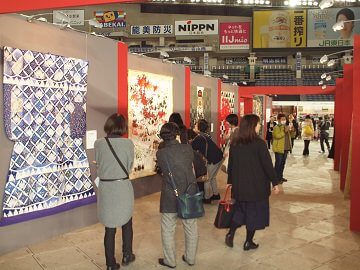 5 Nights 6 Days  From :  $3,398
Partake in an epic jouney through Tokyo, starting your vacation with the annual Tokyo International Great Quilt Festival, an event that draws over 250,000 people to the famous Tokyo Dome. Join us during this exciting festival on our fully escorted Tokyo International Great Quilt Festival Tour 6 Day Package this January! Surrond yourself with fellow quilters who are passionate about the craft.

Our quilt-themed Japan tour travels to all the best stitch and handicraft spots in the lively city of Tokyo. We've included the most popular destinations that carry a wide range of fabrics and materials to make your next dream project a reality. We even include a couple of great traditional spots, to give our guests the right blend of traditional culture in this futuristic city.

This tour is ideal for any quilt or craft lover, complete with two days spent at the Tokyo International Great Quilt Festival. Find the best fabrics and materials while visiting famous landmarks of Japan. You can also extend your vacation before / after the tour in Tokyo.

Travel Japan one stitch at a time

Tokyo
Standard on All Tours
Excellent mix of fine Western style hotels and Japanese style Ryokan
Most Meals (Western & Japanese Cuisine)
All ground transportation in Japan
Admission Fees, Tax & Gratuities
Round-trip airport transfers (on designated tour dates; see details)
Full time service of licensed English speaking tour guide
Free Wifi in Bus & Most hotels
No local payment