Japan Golden Route Tours Series
Follow the historic road of Tokaido Trail that connects many of Japan's main spots. From the skyscrapers of Tokyo, our Japan Golden Route Tours will continue to Hakone where the brilliance of Mt. Fuji can be seen to the great temples of Kyoto and Nara, ending with delicious food in Osaka. This Japan tour packages will give you a chance to see a Kimono Fashion show, try Japanese sake tasting, enjoy a cruise in Lake Ashi near Mt. Fuji, soak in a traditional hot spring in a Japanese style hotel, and more! Whether you want to explore Japan during the Spring, Summer, Autumn, or Winter, this Japan tour package is perfect for those who want to travel the highlights of Japan.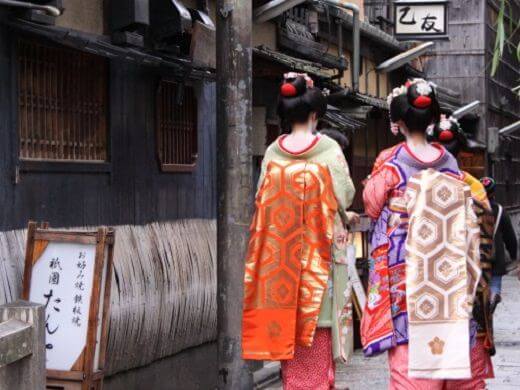 Departure:
2017
05/23
,
06/06
,
06/14
,
07/12
,
07/30
,
08/22
,
09/26
,
10/10
,
10/31
,
11/21
,
09/05
,
05/17
,
05/28
,
06/24
,
07/24
,
08/06
,
08/27
,
09/17
,
10/22
,
11/12
,
12/17
,
12/24
,
07/24
,
08/06
,
08/27
,
09/17
,
10/22
,
07/29
,
08/21
,
09/04
,
09/25
,
10/09
,
10/30
5 Nights 6 Days From : $1,998 pp
6 Nights 7 Days From : $2,498 pp
Golden Route Tours will take you to the highlights of Tokyo, Hakone, and Kyoto with valuable Japanese experiences along the way. In Tokyo you will see the great mix of old and new, with stops at Asakusa's Sensoji Temple full of history, as well as Shibuya, Tokyo's hip fashion district among youths. On the other hand, Kyoto, Japan's ancient capital, will unsurprisingly be full of historic landmarks and treasures of Japan. From Nara's Todaiji Temple where the Giant Buddha resides to Kyoto's gorgeous, endless vermillion gates of Fushimi Inari Shrine, you will be left in awe with how much the country has preserved of its past. You will also have the chance to participate in Japanese green tea ceremony and sake tasting to further experience Japanese culture. In Hakone we will be taking a cruise in Lake Ashi and on the Hakone and Owakudani Ropeway to reach Owakudani Boiling Valley. You will be rewarded with a great view of Mt. Fuji during this trip as well as some time to view beautiful kimonos at the Itchiku Kubota Museum.

This Japan Golden Route Tours also includes a stay at a Japanese inn or ryokan, where you can relax in the hot springs and enjoy a traditional kaiseki meal. You can also extend your vacation before / after this Golden Route of Japan Tours in Tokyo, Osaka, and Kyoto.

Walk the roads of ancient temples in Kyoto and travel to the must see spots in Japan.

Tokyo - Hakone - Mt. Fuji - Nara - Kyoto - Osaka

The featured destinations and experiences are for our Golden Route Tour 6 Day package.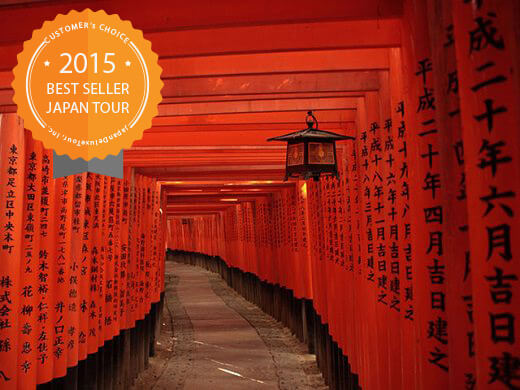 Departure:
2017
05/07
,
05/23
,
06/06
,
06/14
,
07/30
,
08/22
,
09/26
,
10/10
,
10/31
,
11/21
,
09/05
7 Nights 8 Days From : $2,598 pp
Highlights Japan Tours takes you to all of the destinations of our Golden Route of Japan Tours with additional days in the historically significant city of Hiroshima.

Starting in Tokyo, we will explore the Tokyo metropolis with visits to entertainment district Shibuya and youth fashion center Harajuku. We will also take a look at Tokyo's historical aspects such as the Edo Tokyo Museum to learn about the history and development of Edo to Tokyo. Heading to Hakone, the Japan tour packages will approach Mt. Fuji and Lake Kawaguchi, from which you will also have a breathtaking view of the iconic mountain. This Japan tour packages also include a stay at a Japanese inn and a ride on the famous bullet train, taking you from Atami and Nara in the blink of an eye. After visiting all the landmarks of Kyoto, we will head to Osaka then Himeji for the gorgeous Himeji Castle. The tour will then head to Hiroshima, a city full of history. We will learn about the horrific atomic bombing and the tragedies it caused at the Hiroshima A-Bomb Dome and Peace Memorial Park, places symbolizing hope for world peace. From Hiroshima we will take a short boat ride to the small island of Miyajima famous for its unique floating gate, or Itsukushima Shrine. You will have an additional day in Hiroshima to explore as you wish. You can also extend your vacation before / after this Highlights Japan Tour in Tokyo, Osaka, Hiroshima, and Kyoto.

Sail through Japan's waters to the small island of Miyajima to see the famous floating torii gates.

Tokyo - Hakone - Mt. Fuji - Nara - Kyoto - Osaka - Hiroshima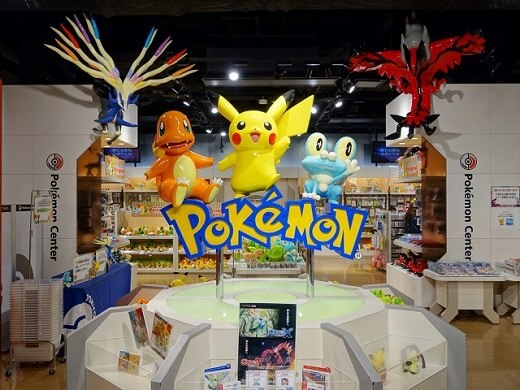 Departure:
2017
05/21
,
06/04
,
06/12
,
07/10
,
07/28
,
08/20
,
09/24
,
10/08
,
10/29
,
11/19
,
09/03
,
05/17
,
05/28
,
06/24
,
08/06
,
08/27
,
09/17
,
10/22
,
11/12
,
12/17
7 Nights 8 Days From : $2,498 pp
Our Golden Route of Japan Tours with Anime is a fully escorted Japan anime tour that takes you to major anime and manga spots as well as destinations in Tokyo, Hakone, Mt. Fuji, Nara, and Kyoto.

During this Anime Japan Tour, in Tokyo we will visit major anime and manga spots such as Animate, Pokemon Center, Gundam Front, J-World, Ghibli Museum, Nakano Broadway, and One Piece Restaurant. We will also make stops at Harajuku and Shibuya, the center of youth culture and fashion. Harajuku's Kiddyland is a large toy store that carries various character goods and many shops within Takeshita Street sell cosplay outfits. We will also visit the iconic Mt. Fuji and Lake Kawaguchi which offers breathtaking views of the mountain with the lake. At Hakone's Owakudani Boiling Valley you will have the chance to try a black hard boiled egg which gets its color from the sulfur in the hot springs in which it is cooked. Eating a black egg is said to prolong one's life by seven years. In Nara you will encounter the Giant Buddha at Todaiji Temple as well as some friendly deer at Nara Deer Park.

We won't miss all the great destinations of Kyoto either. Starting from the beautiful gates of Fushimi Inari Shrine and Gion Geisha District to the magnificent Golden Pavilion and Nijo Castle, this Golden Route Tour with Anime includes it all. During your Japan tour you will even participate in green tea ceremony, sample sake at a brewery, and watch a great kimono fashion show. You can also extend your vacation before / after the tour in Tokyo, Osaka, and Kyoto.

Journey through the must see parts of Japan while travelling to the best Anime and Manga attractions!

Tokyo - Hakone - Mt. Fuji - Nara - Kyoto - Osaka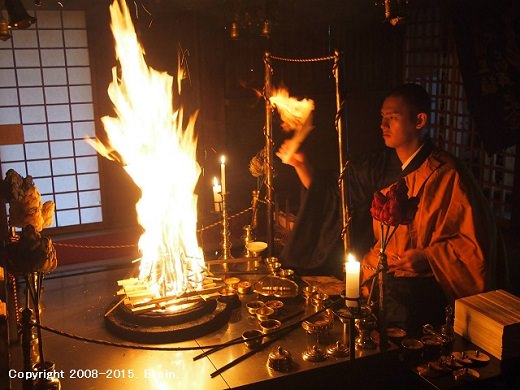 6 Nights 7 Days From : $2,398 pp
This fully escorted Golden Route Tours with Mt. Koya includes all of the destinations and experiences of the Golden Route Tour with an additional stay at Mt. Koya.

From visiting all of the highlight spots from Tokyo to Kyoto via Hakone, the main highlight of this tour is a unique stay at a Buddhist Temple, Ekoin, which was built over 1,200 years ago. At Ekoin you will have the chance to practice Ajikan meditation, Buddhist sutra writing, and more. We will also be visiting Garan, Mt. Koya's main temple complex from which we will take a short walk to Kongobuji, the head temple of Shingon Buddhism. We will also be taking a walking tour to Okunoin twice, once during the day and once at night for a more inspiring and sacred experience. During your stay at Ekoin, your meals will be shojin ryori, a traditional Buddhist style of cooking. Take this unique chance to experience a day as a Buddhist monk with our Golden Route of Japan Tours with Mt. Koya. You can also extend your vacation before / after this Japan tour package with Mt. Koya in Tokyo, Osaka, and Kyoto.

Experience a day in the life as a monk with our Japan Golden Route Tour with Mt. Koya.

Tokyo - Hakone - Mt. Fuji - Nara - Kyoto - Osaka - Mt. Koya
Standard on All Tours
Excellent mix of fine Western style hotels and Japanese style Ryokan
Most Meals (Western & Japanese Cuisine)
All ground transportation in Japan
Admission Fees, Tax & Gratuities
Round-trip airport transfers (on designated tour dates; see details)
Full time service of licensed English speaking tour guide
Free Wifi in Bus & Most hotels
No local payment