Winter Discovery Tours Series
Winter in Japan transforms the country into a hidden paradise. While it may not always snow in Tokyo or Kyoto, the snow on Mt. Fuji and in the background makes for excellent photos. The cold season is perfect to enjoy tasty hot-pot, fresh noodles, and mouth-watering mochi. The season is cold, so be sure to wear an extra coat or indulge in a hot spring. People aren't the only ones who soak in the hot waters, as you may see a snow monkey bathing with its friends during our Winter Discovery - Snow Monkey Tour packages. Walk the trails deep in the forest to see the famous Japanese snow monkeys soaking in the natural hot springs. We also offer our most popular tour packages through Kyoto, Tokyo, Nara, Hakone, and Hiroshima.
Enjoy a sense of calmness during the winter while visiting Japan's best cultural spots. Let the fresh, crisp Winter air clear your head of all your troubles while you take in all the marvelous sights. Whether you're looking for the perfect trip to start your year or end it, a Winter Japan tour package is the right experience for you!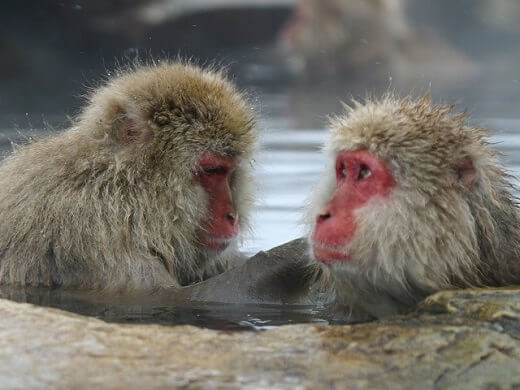 Departure Date(s)
7 Days

2018

Kyoto(Osaka) Tokyo

12/23
6 Nights 7 Days  From :  $2,598
The powdery snow and mesmerizing illumination make winter a beautiful time to visit Japan.
Bask on the beauty of Japanese winter season with a trip to the snowy mountains of Nagano. The Winter Discovery Snow Monkey Japan Tour includes visits to Osaka, Kyoto, Nara, Hakone, Mt. Fuji, Tokyo, Matsumoto, and Yudanaka.

During the Snow Monkey Winter Japan tour, you will experience a Japanese green tea ceremony in a Buddhist Temple, a Kimono Fashion Show, and a cruise around Lake Ashi with snow capped Mt. Fuji in the background. After visiting well-known locations such as the Golden Pavilion and Harajuku, our Winter Japan Tour will head north to one of the top three best castles in Japan, Matsumoto Castle, and Yudanaka, where you can find furry monkeys soaking in the hot spring in the wild. This is the only place where you get to see this iconic moment and highlights of this Snow Monkey Tour.

This tour will also include a stay at a ryokan, a Japanese hotel, where you get to relax in your own hot spring and try a traditional multi-course dinner. There are plenty of experiences to enjoy to truly get a feel for Japanese culture. You can extend your stay to hit the slopes in Hakuba, the best ski and snowboard resort in the area where the 1998 Winter Olympics was held.

More than just a trip to Japan – enjoy a hike to the world famous Jingokudani Monkey Park to see Snow Monkeys

Osaka - Kyoto - Nara - Mt. Fuji - Hakone - Tokyo - Nagano
Standard on All Tours
Excellent mix of fine Western style hotels and Japanese style Ryokan
Most Meals (Western & Japanese Cuisine)
All ground transportation in Japan
Admission Fees, Tax & Gratuities
Round-trip airport transfers (on designated tour dates; see details)
Full time service of licensed English speaking tour guide
Free Wifi in Bus & Most hotels
No local payment