2020 Cherry Blossom Discounts
Posted:
---
Affordable Vacations & Travel Discounts for 2020 Cherry Blossom Tours!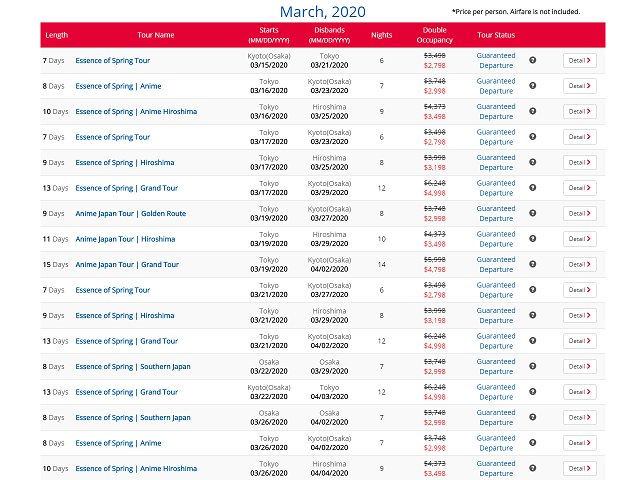 2020 is no ordinary year for Japan. Sure, there's still the incredible collection of Japanese arts and crafts at the largest Quilting event in the world at the International Quilt Festival in Tokyo. AnimeJapan, the largest anime expo in Tokyo, is also scheduled for March with incredible anime and manga presentations and panels prepared. Still, what's probably the most exciting for many travelers and tourists who have the Land of the Rising sun on their tour radar is the gorgeous Cherry Blossom Season before the lively 2020 Summer Tokyo Olympics!

Here to help you prepare for the ultimate Japan vacation without breaking the bank, Japan Deluxe Tours is pleased to announce our newest line of 2020 Anime Japan Tours and Cherry Blossom Vacations are now updated with Massive discounts and savings! Enjoy up to 20% off your vacation on select Japan tours listed on our tour calendar!

This includes our best-selling line of Cherry Blossom guided Japan tours, Takayama Festival vacation packages, Nikkei Ancestry Tours, Anime Japan and Cherry Blossom tours with anime! No need to break the bank for your vacation or sacrifice your itinerary in Japan. On a vacation with Japan Deluxe Tours, you're travelling with Japan's best tour guides through the can't miss highlights of Tokyo, Kyoto, Nara, Hakone, Hiroshima, Southern Japan, and all the heart-pulsing, action packed, super kawaii anime spots of Akihabara!

Family Vacation? Solo Travel? Honeymoon? Group Trip? Corporate Retreat? Road Trip? Okay, maybe not road trip, but for the rest of you vagabonds looking for an epic vacation filled with traditional arts, culture, delicious foods, and exciting sights, look no further than Japan!

Japan Deluxe Tours is accepting bookings on all our 2020 Cherry Blossom Japan Tours and Anime vacations with 20% savings. Enjoy big savings and affordable deals on your next vacation or tour with us through Japan!
Vacations with Massive Savings!
Why Wait? Book a Japan Tour Today!
Related Tour