2020 Anime Japan Tours for March & April
Posted:
---
Travel Tokyo's Hottest Anime Destinations!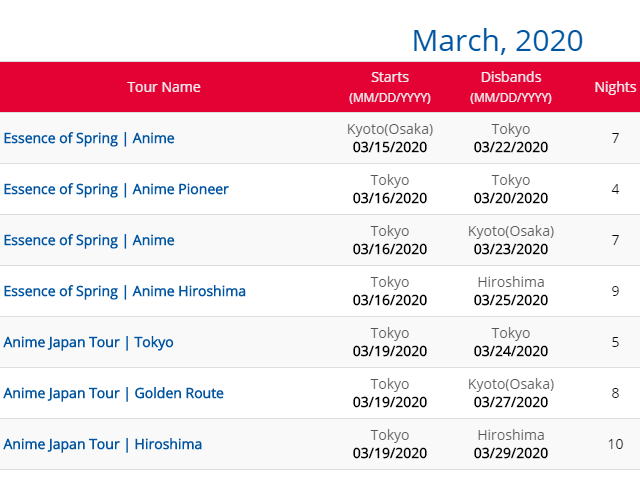 Japan Deluxe Tour's is leveling up our current line of best-selling Cherry Blossom Japan tours for 2020 with new added anime tour departures! Enjoy two extra days in Tokyo to explore the hottest anime-themed destinations and manga shopping centers before or after your epic vacation through the highlights of Tokyo, Kyoto, Nara, Hakone, and Hiroshima!

All of our Cherry Blossom tours with anime packages include admission to the hottest anime spots west of Tokyo, including the capital of Anime Culture in Akihabara, the hub of classic anime shopping Nakano Broadway, the mythical Ghibli Museum, battle other trainers at the Pokemon Center, and enjoy the lively anime culture in Tokyo.

All of our Japan tours with Anime vacations include hotels, daily-breakfasts and some meals, admission to listed attractions, and complimentary airport transfers on designated arrival and departure dates. Don't forget, all of our fully-guided Cherry Blossom Japan tours between Tokyo & Kyoto include a bullet train ride, tea ceremony, maiko dining experience, and other can't miss Japanese arts and experiences for a memorable holiday abroad.

Japan Deluxe Tours is currently accepting bookings for our 2020 line of Cherry Blossom Japan tours and travel packages. Please note, our anime vacation packages itinerary are subject to change, and may be updated after time of booking. We plan on taking our travelers to all locations listed in the best way possible, so we may switch the order around to maximize your anime vacation. Let your travel agent know if you have any questions when booking your tour!
Related Holiday Vacations
Related Tour