Burger King reveals limited-edition "Kuro Ninja" burger in Japan
Posted:
---
Burger King reveals limited-edition "Kuro Ninja" burger in Japan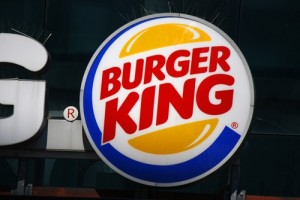 While there are plenty of traditional restaurants to dine at during your Japan vacation, it's always fun to stop by a McDonald's or Burger King to see what kinds of unique grub these fast food establishments are serving up outside of the United States. Burger King's pizza burger and McDonald's Mega McMuffin are just a few of the culinary creations you may have the opportunity to sample.
According to The Huffington Post, Japan recently revealed its newest fast food menu item: the Kuro Ninja burger, which can be found at Burger Kings throughout the country. This limited-edition burger is sandwiched between a black bun made out of bamboo charcoal, and comes with hash browns, lettuce, mayonnaise, soy sauce and a giant slab of bacon. Sources note that it's supposed to resemble a ninja sticking its tongue out.
"The Kuro Ninja will be on sale starting October 25 for 680 yen (USD $6.93)," states RocketNew24. "Customers who purchase a medium- or large-size set meal will receive Kuro Ninja character logo stickers!"
If you're planning a Japan vacation in the near future, why not book a trip through Japan Deluxe Tour? Our fully escorted tour packages, such as the Grand Tour of Japan and the Japanese Cherry Blossom tour, feature hotel accommodations, meals, ground transportation, English-speaking tour guides and more. In addition to visiting dozens of exciting attractions with the tour group, travelers will have plenty of time to do some of their own exploring as well. Whether or not that means trying the Kuro Ninja burger is, of course, entirely up to you!