Falling in Love with: Beppu
Posted:
---
King of the Hot-Springs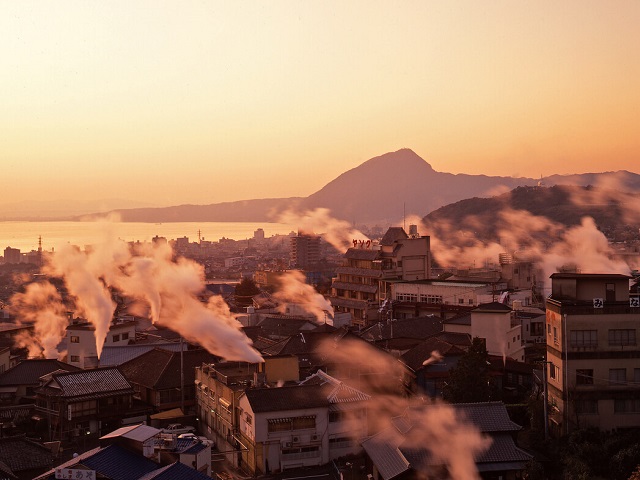 If you've ever flown into the Oita Prefecture, you'll know the area is famous for it's plentiful occurring Japanese hot-springs baths. Advertising themselves as a hot-springs paradise, there's plenty to do and enjoy through the scenic, country-side prefecture. Nicknamed the Hot Springs Prefecture by the locals and in multiple Japan travel guides, Japan Deluxe Tours wanted to highlight a few of our favorite attractions in one of Oita Prefecture's most popular cities.

Continue on to find out what are three essential stops we love to explore during our guided Southern Japan tours in the Hot-Springs prefecture. Although names like the Tour of Hell or Hell-Steamed Pudding sounds a bit daunting, we guarantee there's way more fun than fear when traveling along the inviting city of Beppu.
Tour of Hell
Possibly one of the most famous attractions in Beppu, the Tour of Hell is an adventurous journey through 8 distinct hot-springs in the area. From the deep cobalt blue waters of the Umijigoku Sea Hell to the bright crimson shine of the Blood Pond Hell, the Tour of Hell fascinates international travelers and domestic visitors alike with each pond's unique properties. Other ponds include the lively Tornado Hell, erupting every 10 minutes, to the more mellow Cooking Pot Hell where the waters are used for delicious cooking and snacks.

While the waters at Beppu are usually enjoyed for bathing, the Tour of Hell is a nice change of pace from the norms at any other hot-springs town. Next to being able to see bathing snow monkeys in Nagano, there aren't too many travel destinations Japan has to offer that includes such novelty attractions along the hot-springs. It's only fitting with so many unique hot-springs the prefecture finds ways to have fun with them. Speaking of...
Sand Bathing
& Japanese Hot-Springs Themed Park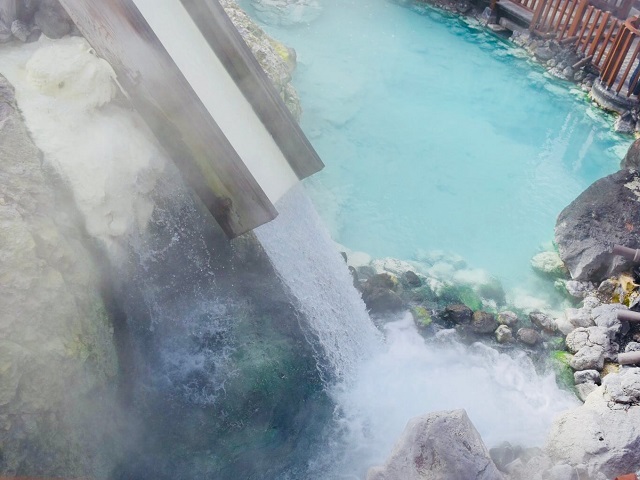 Bathing in hot-springs are definitely relaxing, but a bit too much relaxation can be a bit repetitive or dull. To avoid falling privy to the same touristy attractions offered at other hot-spring resorts, why not enjoy a change of pace with a sand bath? An attraction you'd expect at the Tottori Sand Dunes, Beppu's location along the coast allows for great days at the beach, complete with a relaxing sand bath. Bury yourself with the aid of an attendant in soft, warm sand while enjoying the lull of beach waves gently crashing along the shores. The sand is kept warm and the experience is said to help relax and revitalize the body after a nice rest in the sand.

Better yet, mix relaxation and adventure with a visit to Beppu's massive hot-springs themed-park. Similar to the
Hell Steamed Pudding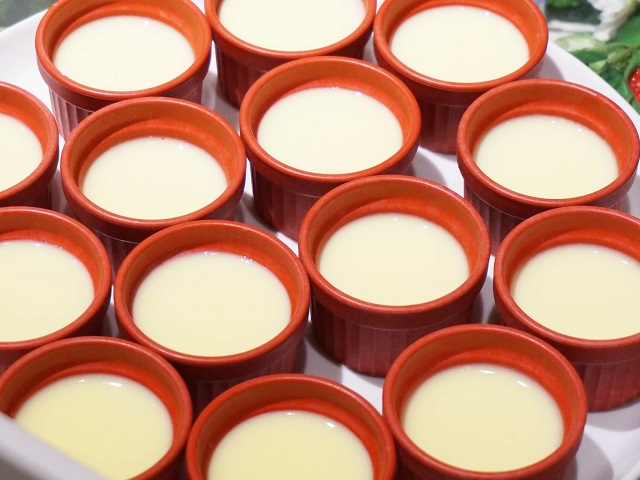 After a relaxing day of bathing, soaking, and lounging about, it's time to enjoy dinner. There's plenty to enjoy for dining from a relaxing Kaiseki dinner after a bath to a light snack before bed. However, if you do plan on spending time in Beppu, Japan Deluxe Tours highly recommends snacking on some Hell Steamed Pudding before your vacation is over.

Albeit a slightly frightening sounding name, Hell Steamed Pudding is as sweet as can be. Featuring the run-of-the-mill ingredients found in any regular Japanese pudding snack, Hell Steamed pudding is also made of milk, eggs, sugar and fresh cream. However, the real treat comes from how the pudding is made. Using the thermal waters from the Cooking Pot Hell along the Tour of Hell, Hell Steamed Pudding is heated using volcanic steam. In addition to pudding, there's also seasonal vegetables, seafood, chicken, eggs, steamed pork buns, and more to enjoy along the Cooking Pot Hell.
BONUS: Toriten & Jidori Chicken in Kyushu
Not quite exclusive to Beppu, Oita Prefecture is famous for Toriten Chicken. More so, the island of Kyushu is famous for breeding delicious, cage-free Jidori Chicken. Featuring soft, plump meat and cooked to perfection, Toriten chicken is tempura-style fried chicken. This local specialty is a popular dinner option for guests in Beppu after a day in the hot springs. Jidori chicken on the other hand is known around the world as the chicken equal to Kobe Beef. Growing in popularity over the last two decades, Jidori chicken is now served in restaurants around the world after gaining popularity on the island of Kyushu.

Interested in exploring the island of Kyushu? Talk to your travel agent about Japan Deluxe Tour's affordable range of custom private tours. You can also join us to explore the highlights of Beppu and the rest of Kyushu during our fully guided Southern Japan Tours available in the Spring or Year-Round.