Solidarity with Kumamoto from FC Barcelona
Posted:
---
FC Barcelona extends their hands to Japan's Earthquake Victims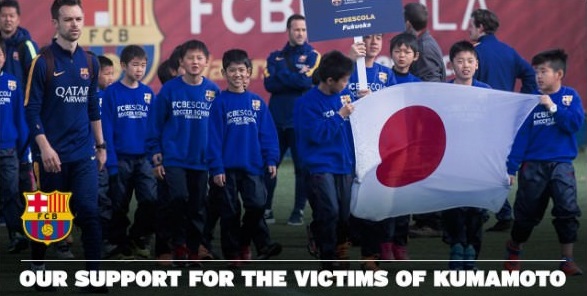 Last month, Japan saw one of its worst earthquakes since the 2011 Tohoku Earthquake. Many cities in the southern island of Kyushu were affected, including Kumamoto which suffered extensive damage. Although a month has passed, there is still much that needs to be done to help. With tens of thousands either without energy or evacuated from their homes, the morale for the good people in Kumamoto can't be expected to be at their best. To help lift peoples spirits, FC Barcelona's FCBEscola Fukoaka will be competing with Blaze Kumamoto in two-game exhibition to allow all the children of Blaze Kumamoto U12 to play.
The games are intended to be a charity match, which are also aimed to raise the spirits of the children affected by the earthquakes. There will also be a minute of silence before the game to pay respects to all those who have lost their lives during the ordeal. There are also future games scheduled to take place in August. While this is may be viewed as a small start, for the young kids who have faced so much and get a chance to play the game that they love, this gesture of unity through soccer may just be what the people of Kumamoto need to remind them of the good there still is.