Sword Art Online x Fuji-Q Highland Collaboration Event
Posted:
---
The Team from the hit Anime SAO are hanging out at Fuji-Q Highland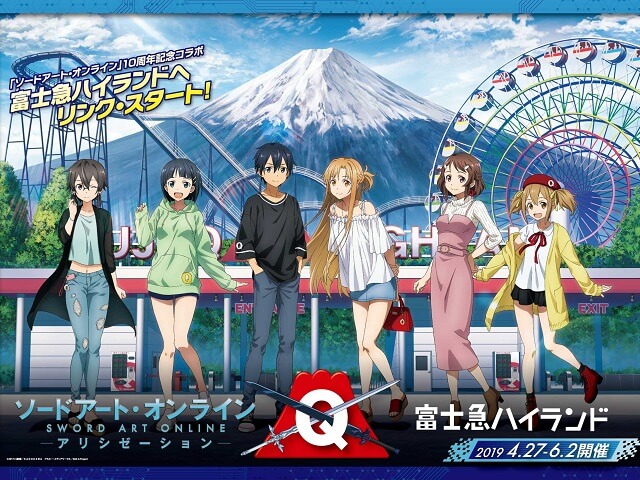 Fresh off a collaboration with Kokura Castle, the cast of Sword Art Online are teaming up with beloved Japanese theme-park Fuji-Q Highland for an epic SAO event to commemorate Sword Art Online's 10th Anniversary from April 27th to June 2nd.

Fuji-Q Highland is a popular amusement park in Yamanashi Prefecture (close to Mt. Fuji), known for it's thrilling rides and attractions. During the collaboration period, the cast from Sword Art Online: Alicization will be teaming up with Fuji-Q Highland for a fun arrangement of attractions and activities.

The campaign features 11 attractions in addition to other attractions in the surrounding areas. One of the main attractions for the event is a limited-edition movie screening featuring footage from Sword Art Online: Alicization and the character song Symphonic Alicization Orchestra for a special 40 minute movie. Special one-day free passes with limited SAO clear files will be available for 6,000 yen for adults, 5,500 yen for middle and high school students for advanced tickets or 6,300 yen for adults, 5,800 yen for middle and high school students when purchased at the park. The tickets with clear files will be available until the 2nd or until they run out of supply.

The park will also feature six collaboration attractions featuring the characters from Alicization. Enjoy the Kirito × FUJIYAMA, Asuna × Takabisha, Shinon × DODODONPA, Leafa × Merry-Go-Round, Eugeo × Cool Japan, and Alice × Tea Cups during your stay at the park. There are also other events at the park, including the SAO Puzzle Solving Quest, Stamp Rally, Attraction Rally, Park Announcements (featuring SAO voices), Entrance Decorations, a special collaboration menu at the theme-park cafe, Fuji-Q Highland X SAO collaboration goods, and a fire works show at night. There are also attractions in the surrounding areas, like the Highway Bus showcasing SAO designs or the Narusawa Ice Hole photo spot where the Blue Sword awaits you.

As one of Japan's top anime, Sword Art Online has captured the imagination and attention of video-game fans, otakus, and more in Japan since the visual novels were first published. Since then, the series has gone on to include multiple movies, anime adaptions, and spin-offs. Join Kirito and crew at the wondrous Fuji-Q Highland this April, May, and June!