How to travel comfortably via airplane
Posted:
---
How to travel comfortably via airplane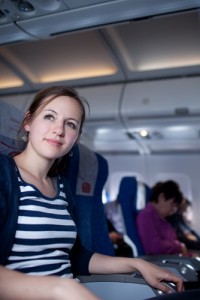 Traveling via airplane isn't always the most enjoyable experience, but you can ensure your comfort and well-being by following these tips:

Drink plenty of fluids – It's important to stay hydrated when you're in the air. This will also help prevent you from getting sick while you're on vacation. Typically you'll want to avoid sugary beverages and alcohol and instead stick with water.
Make sure you can sleep comfortably – "Once you find yourself nodding off, remove your contacts or glasses and consider using earplugs, a travel pillow and a sleep mask to facilitate sleeping," states ABC News. "For some, sleep is harder to come by than for others, but a blanket, noise cancelation headphones or even an over-the-counter sleeping aid can help you sink into slumber."
Select a seat that fits your unique needs – Some travelers love the view that accompanies a window seat, while others feel claustrophobic if they're not sitting in an aisle seat. With this in mind, it's a good idea to assess your own needs and carefully choose a seat that's right for you. You may even want to splurge for First Class if it's a particularly long flight.
If you're hoping to take a trip in 2014, why not plan a Japan vacation? At Japan Deluxe Tour, we offer plenty of comprehensive Japan travel deals at affordable prices. Plus, most of our tour packages include meals, hotel accommodations, admission fees to attractions, round-trip airport transfers, ground transportation and access to English-speaking tour guides. Check out our website today to learn more!