8 Day Hiroshima Spring Cherry Blossom Tours Now Added for 2020!
Posted:
---
8 Day Guided Japan Vacation with Japan's Best Tour Guides!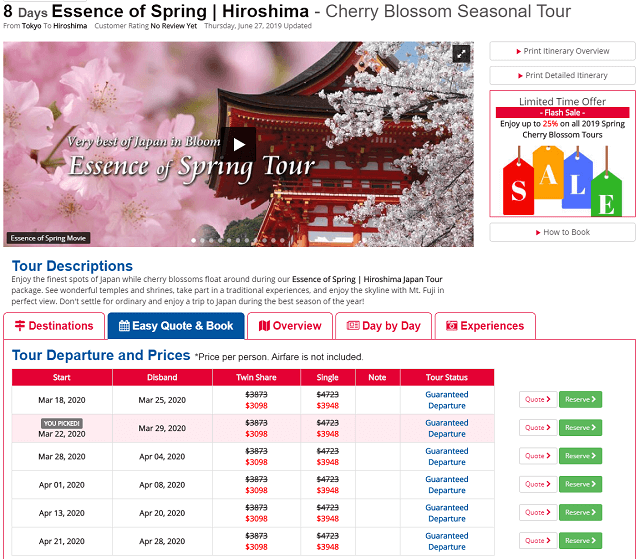 Back by popular demand, Japan Deluxe Tours is adding our best-selling small group 8 Day Hiroshima Cherry Blossom Japan Tours to our 2020 Tour Calendar! Filled with an exciting itinerary showcasing the highlights of Tokyo, Hakone, Kyoto, Nara, Himeji, Matsue, and Hiroshima, our fully guided 8 day Hiroshima tour is set for the breathtaking 2020 Cherry Blossom season.

If you haven't had a chance to see cherry blossoms or other uniquely Japanese flowers, now's your time to enjoy one of our top-rated vacation packages with an extra 20% off!

For a limited time, enjoy a massive 20% off savings on all Japan tours scheduled for 2020! Whether it's our expertly crafted Quilt Festival Tours in January or the unforgettable line of Cherry Blossom tours in spring, enjoy an affordable vacation with great travel discounts thanks to Japan Deluxe Tours!

We at Japan Deluxe Tours knows you value your vacation and no trip is complete without authentic Japanese experiences. Don't worry, even though our Hiroshima 8 Day tours are a day shorter than our 9 day packages, the itineraries include can't miss Japanese traditional activities including:
- A Green Tea Ceremony in Kyoto
- A bullet train ride between Tokyo and Kyoto
- A stay in a Japanese-style hotel
- Authentic meals like Teppan-yaki and Hoto Japanese noodles
and more for a vacation you'll remember for years to come!
8 Days and 9 Days available Now!
with Anime Vacations also Available!
Related Tour