Japan travel guide: Oura Catholic Church
Posted:
---
Japan travel guide: Oura Catholic Church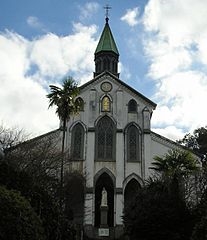 It's always interesting to see a slice of Western culture in an Eastern country like Japan, and Oura Catholic Church is one of the best examples of this phenomenon.
Established in the mid-1800s during the Edo Period, Oura Catholic Church is known for being the oldest Christian church in all of Japan. Situated in Nagasaki, it is the only Western-style building that has been designated a National Treasure.
According to Web Japan, an online resource, the Gothic-style structure was created through the efforts of French missionaries, who designed it, and Japanese carpenters, who built it.
"This church both symbolizes and showcases the fascinating and unusual merging of Western Christian and Japanese styles," writes TripAdvisor user Eugene LA in his five-star rating of the attraction. "There's some amazing stuff here. Especially if you've read about the history of Christianity in Japan and specifically Nagasaki. Oura is right next to Glover Garden, so you can combine both into one outing."
Oura Catholic Church is one of the dozens of unforgettable destinations on Japan Deluxe Tour's Grand Tour of Japan. This remarkably diverse tour is perfect for anyone who wants to experience the country's urban hotspots and rural landscapes during his or her Japan vacation. Featuring 11 nights of hotel accommodations, 12 meals, ground transportation, admission fees to attractions, round-trip airport transfers, an English-speaking guide and more, the Grand Tour of Japan is the best way to ensure that your trip is comprehensive and affordable.
Check out our website today to find out more about this and other exciting Japanese vacation tours!