Japan travel guide: Sensoji Temple
Posted:
---
Japan travel guide: Sensoji Temple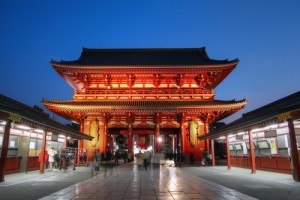 When you tour Tokyo, make sure you don't miss out on visiting Sensoji Temple, one of the city's oldest and most beautiful places of worship. This Buddhist temple dates back all the way to the year 628. Although it was badly damaged during World War II, it was later rebuilt and remains among the most popular temples in the city.
"This was a great temple to visit and photograph. It also had lots of different activities to enjoy and a bustling market nestled in the back area," wrote TripAdvisor user Jennifer L, who gave the attraction five stars. "The market had interesting food stalls and shops. Great place for families. It is crowded and busy but that is part of the fun. You can find quiet spots to sit and watch the passing traffic and people worshipping at the temple."
The Sensoji Temple is just one of dozens of incredible places featured on Japan Deluxe Tour's Golden Route of Japan tour, which is ideal for anyone who is going on a Japan vacation for the first time. Featuring all the must-see sites from Tokyo to Osaka, the Golden Route of Japan package includes trips to the Kinkakuji Golden Pavilion, Lake Ashi, Todaiji Temple, Tsukiji Fish Outer Market and much more.
This cost-effective tour provides you with everything you need to make your Japan vacation as stress-free as possible, such as five nights of hotel accommodations, 10 meals, ground transportation, admission fees to attractions, round-trip airport transfers and an English-speaking tour guide.
To find out more about this and other Japan travel deals, take a look around our website today!