Japan travel guide: Kenroku-en Garden
Posted:
---
Japan travel guide: Kenroku-en Garden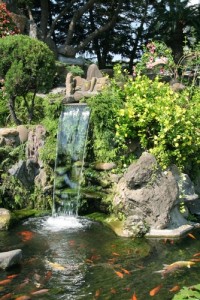 Located in Kanazawa, the capital city of Ishikawa Prefecture, Kenroku-en Garden is considered one of the three most beautiful strolling gardens in all of Japan. With its approximate size of 100,000 square meters, it includes large ponds, hills, tea houses and cottages that occupants are encouraged to view while walking along the grounds. Although it would be difficult to see the entirety of Kenroku-en Garden in one trip, visitors can find places of interest by following a map of the site.
This attraction, which was built during the Edo Period, also boasts a rich history and purpose — summarized briefly on the Ishikawa Prefecture website:
"Kenroku-en was developed to perfection over generations by the Kaga clan lords. The basic concept of gardening, however, was 'eternal life' consistently. By creating a large pond to resemble the ocean and arranging an island for a legendary wizard with the secret perpetual youth and longevity to live there, the lords cast their wishes for longevity and eternal prosperity into the design of the garden."
The garden has been open to the public since 1874, notes the source, and was declared a National Site of Special Scenic Beauty in 1985 — a prestigious honor that is similar to being designated a National Treasure.
Each spring and autumn, Japan Deluxe Tour offers the Takayama Festival Tour, which includes visiting Kenroku-en Garden, among many other incredible sites. Individuals who are interested in signing up for the October 7, 2013 six-night tour package can look forward to enjoying one of Japan's most beautiful festivals, during which the streets are filled with floats featuring mechanical dolls and other impressive decorations.