Japan travel guide: Matsumoto Castle
Posted:
---
Japan travel guide: Matsumoto Castle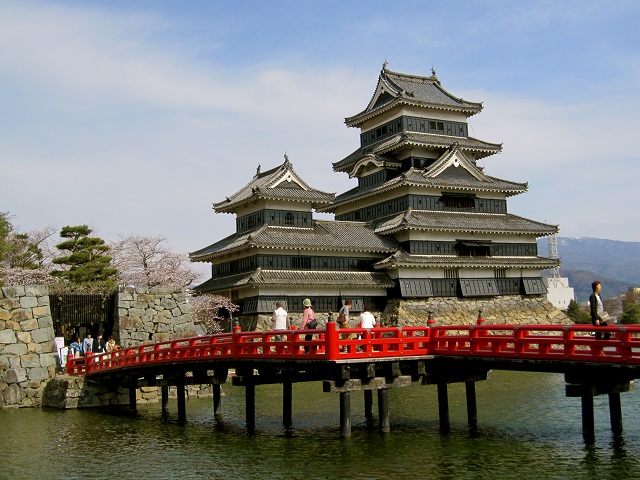 Also known as Matsumoto-jo, Matsumoto Castle is one of the most beautiful castles in all of Japan, making it a must-see destination if you're exploring the Nagano Prefecture during your Japan vacation.
"Built by Ishikawa Kazumasa and his son Yasunaga in 1590, Matsumoto-jo is designated a National Treasure. After Hideyoshi took Odawara, he stationed Ishikawa Kazumasa in Matsumoto to govern his eastern provinces," states Jcastle.info, a resource on Japanese castles. "The history of Matsumoto-jo actually begins with a castle called Fukashi-jo which was built by Shimadachi Sadanaga in 1504. That castle was attacked and captured by Takeda Shingen in 1550."
The structure is considered a "hirajiro," meaning it's situated on a plain rather than a mountain or hill. It is known for its black exterior and its original stonework and wooden interiors. Over the years, the castle has undergone renovations and reconstruction — most notably in the early and mid-part of the 20th century — but it still retains its traditional historic build and aesthetic.
Matsumoto Castle is just one of the many unforgettable stops on Japan Deluxe Tour's Takayama Festival Tour, which takes place in April and October of each year. Not only do travelers get a chance to experience the Takayama Festival — featuring 15th century-style costumes, music, performances, floats and more — but they are given the opportunity to tour Tokyo, Kyoto, Nagano and other parts of this gorgeous country. The fully escorted Japan tour package includes six nights of accommodations, 12 meals, admission fees to all attractions and constant access to an English-speaking guide.