Japan travel guide: Tsukiji Fish Market
Posted:
---
Japan travel guide: Tsukiji Fish Market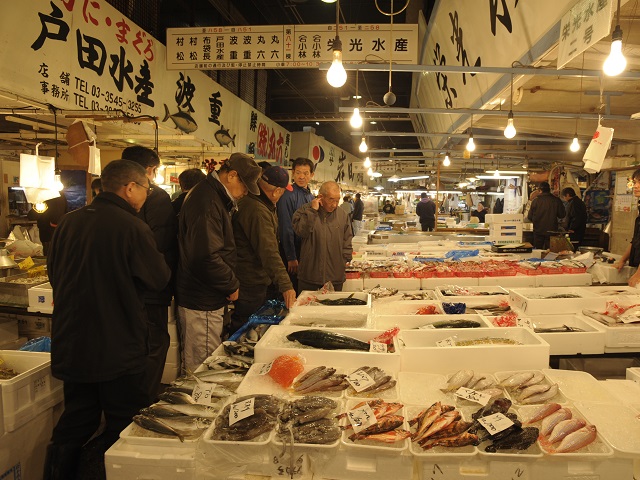 If you were impressed by Seattle's Pike Place Fish Market or even the Fulton Fish Market in The Bronx, New York, your trip to Japan should undoubtedly involve a visit to the world famous Tsukiji Fish Market in Tokyo.
"Tsukiji Market (築地市場, Tsukiji Shijō) is a large wholesale market for fish, fruits and vegetables," states japan-guide.com. "It is the most famous of over ten wholesale markets that handle the distribution of fish, meat, produce and flowers in metropolitan Tokyo. Tsukiji Market is best known as one of the world's largest fish markets, handling over 2,000 tons of marine products per day."
One of the main attractions at the Tsukiji Market is the tuna auction, where 120 lucky visitors per day are able to observe this entertaining event — which begins bright and early at 5 a.m. — on a first-come, first-served basis. As you might expect, there are a number of sushi restaurants in the area that give you the chance to enjoy fish straight from the Market. There are also vendors who sell novelty items such as wasabi, sashimi knives and other souvenirs on the surrounding streets.
If you do end up visiting the Tsukiji Market, remember to follow important rules that you may be presented with, such as staying out of restricted areas and allowing for a steady flow of traffic.
The Tsukiji Market is just one of the many unforgettable destinations featured in Japan Deluxe Tour's Golden Route of Japan package, a fully escorted seven-night tour that includes all the must-see Japan travel destinations between Tokyo and Osaka and offers 14 meals, ground transportation and round-trip airport transfers. If you're hoping to visit Japan in the near future, this is a great opportunity you won't want to miss.