Kyoto International Manga Anime Fair Dates are Set for 2019
Posted:
---
Kyoto's International Manga & Anime Fair returns September 2019!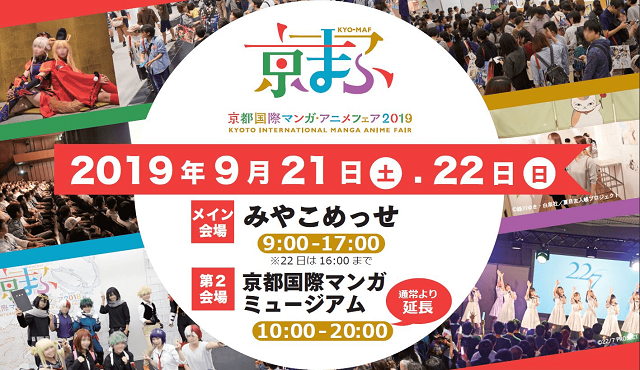 If Spring's AnimeJapan festival isn't enough for your anime needs, the Kyoto International Manga Anime Fair is returning in 2019 for otaku's and anime fans in Kyoto. Slated as the largest anime convention in west Japan, the Kyoto International Manga Anime Fair is a two day event celebrating Japan's anime & manga culture on September 21st and 22nd.

The event will be held for two days at the Miyako Messe convention center in Okazaki, Sakyo Ward and the Kyoto International Manga Museum in Nakagyo Ward. The festival is set to include performances, shows, exhibitions, cosplay, panels, Kyoto craft lessons, in addition to an industry job fair, family events, and limited-edition character goods and merchandise for sale.

The venues will also feature character booths and photo op locations for cosplay and guests. Industry leaders as well as information on 2019's Winter anime schedule and 2020's Spring anime schedule will likely be announced at the festival.

While information about the anime event is limited to what's on the Kyoto International Manga Anime Fair's Twitter page, you can expect this to be a popular event among manga and anime fans. If you'd like to add the festival to your vacation with Japan Deluxe Tours in September, you can customize your tour with pre or post stay options in Kyoto to include the fair during your tour!