Meet Japan's High-tech Toilets
Posted:
---
Meet Japan's High-tech Toilets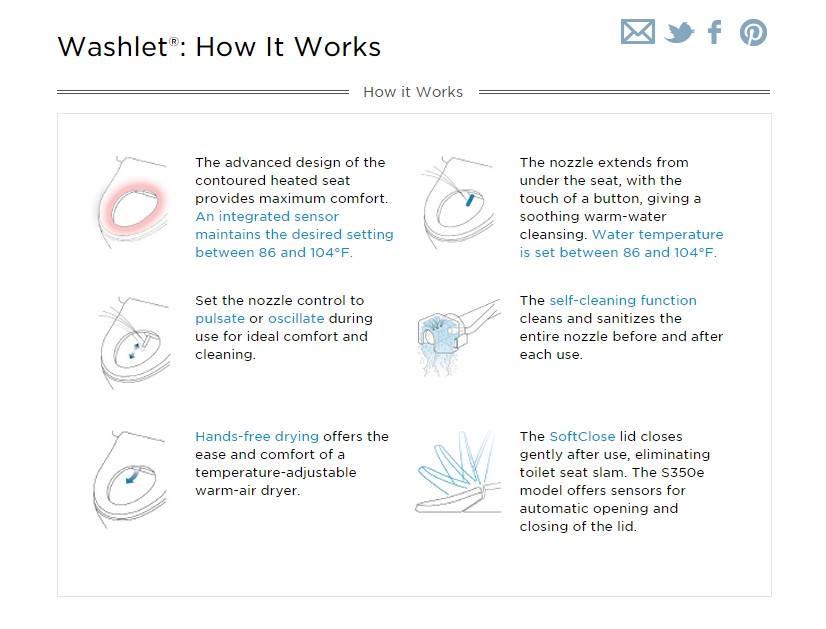 Most of the Department stores have beautiful public toilets nowadays. (Of course, it's not every single stores though…) Some of them have a fabulous powder room almost look like a hotel room! Every in a few toilet stalls, there is a chair for small kids about 2-3 years old. So, the parents can do their business without worrying about what to do with baby. You don't have to worry that kid would open the door in the middle of..... They also have a board in a stall, so you can change clothes, socks, etc on the board without touching the toilet floor. Japanese toilet is not only about the appearance, but also the functions of the toilets itself is SUPER! 1. The lid opens and closes automatically 2. Seats are heated in winter 3. Has bidet and washlet *the washlet is the function that you can wash your bum 4. Dryer for after using the bidet or washlet 5. Control the water pressure and the temperature. 6. Otohime- the fake flushing sound or music to camouflage the sound you make without using the water. Some of people might think using the bidet or washlet in a public toilet is unhygienic, but of course Toilet maker has a solution about your concern! The nozzle for the bidet and washlet has the self-cleaning function which cleans and sanitizes the entire nozzle before and after each use!! And of course a sanitation worker comes and clean everything regularly. About 80 % of family have washlet in their house in Japan. Most of the Hotels in Japan have a washlet in each room. People who never tried, never paid attention, never came to Japan yet, PLEASE try and feel the sensations of the Japanese High-tech toilet that is the pride of Japan! Don't be scared.