Mob Psycho 100 Ⅱ Collaboration Cafe
Posted:
---
Dishes inspired by your favorite Psychic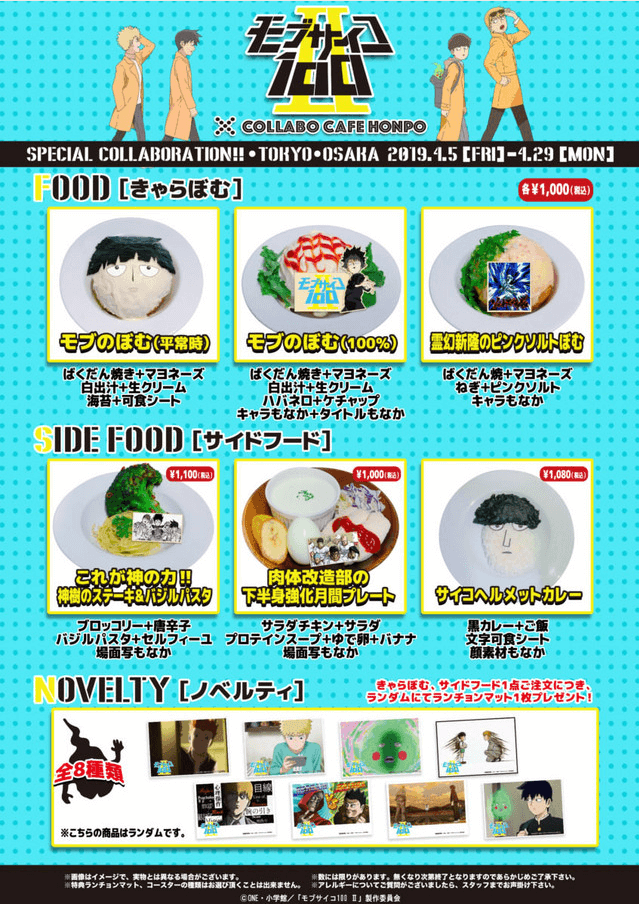 Based on the smash-series second season, Mob Psycho 100 is teaming up with Cafe Honpo in Tokyo and Osaka to bring you an awesome cafe based on Mob and his psychic friends! Set to run for the month of April, enjoy a full menu of food, drinks, and desserts based on the cast of Mob Psycho 100.

The food menu includes a Regular Mob, Mob 100, and Reigen rice dishes in addition to side dishes like the basil pasta (with a giant piece of broccoli to look like Dimple), the Body-Improvement Club' protein plate (a must for Mob's muscle-obsessed club members), and the Psycho Helmet curry (presented in Mob's typical blank expression). Each dish is priced between 1000~1080 Yen. There are also various drinks based on the Mob Psycho cast to sip on while you enjoy your food.
Dessert Menu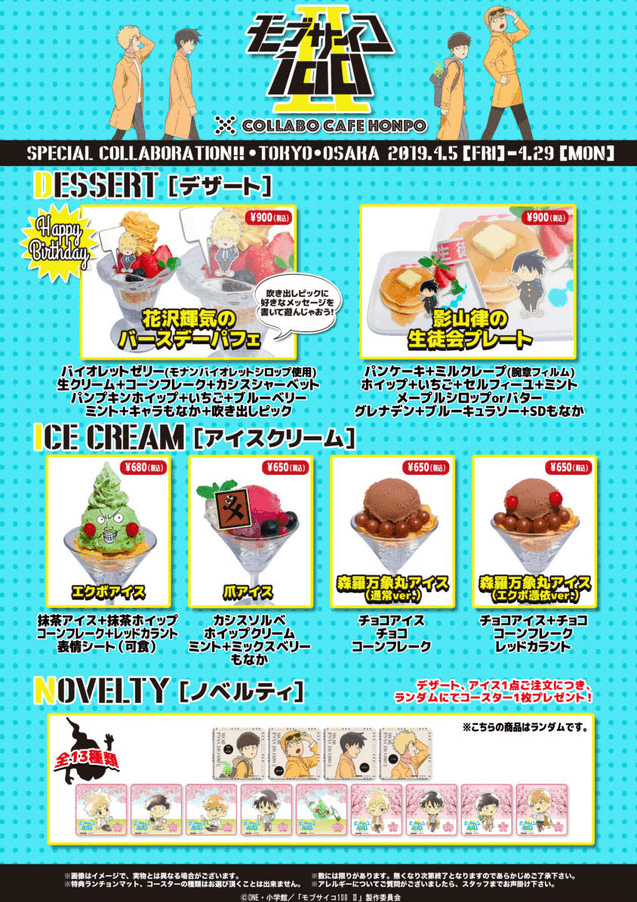 After your food and drinks, enjoy a relaxing dessert such as Teru's birthday parfait, Ritsu's pancakes, or Dimple ice cream. These classic desserts each bring a bit of flair, but are perfect snacks after a day of hanami viewing or shopping in Tokyo or Osaka. Each order is accompanied with a special place mat or coaster with scenes from the anime or exclusive character art. The desserts and drinks have 13 random coasters, while the food options feature 8 scenes from the hit anime. You'll have to visit the cafe a couple times or bring friends along if you're determined to complete the set.
Exclusive Goods and Merchandise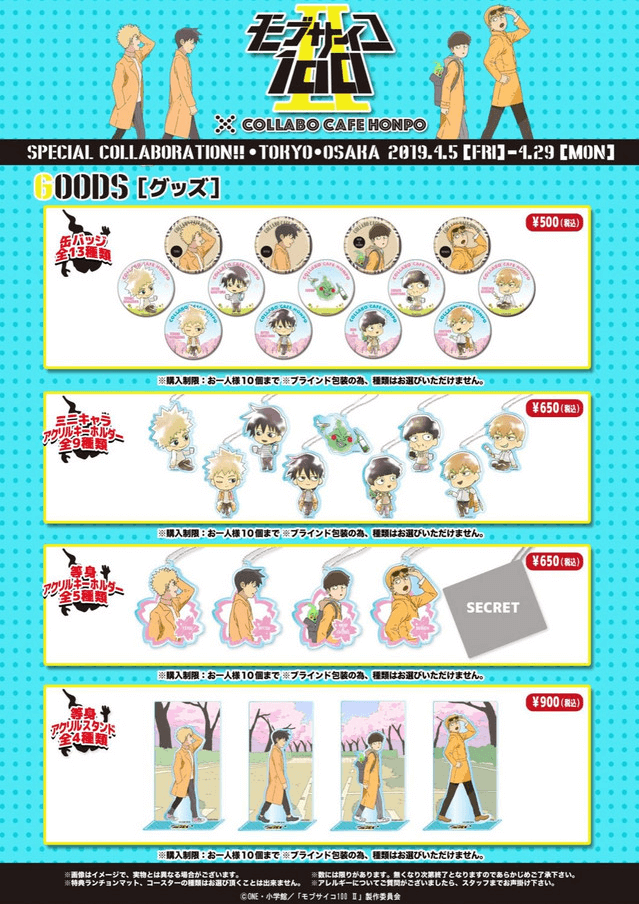 As standard with any collaboration event, the Mob Psycho Cafe will feature exclusive goods and character arts for purchase. In addition to buttons, key-chains, and character stands, the cafe will sell a special, unrevealed sakura-themed character key-chain. Given that the cafe is running in April, it's no surprise the characters can be seen in front of cherry blossom and sakura trees. We can expect this cafe to be another hit among anime fans, and a must for any Mob Psycho 100 fans joining our Japan Tours in April!
The cafe is set to run from April 5th until April 29th in Tokyo and Osaka
Original Info from: Collabo-Cafe.