More AnimeJapan Tours Added to Our Calendar!
Posted:
---
More Tours for 2020 with Big Discounts!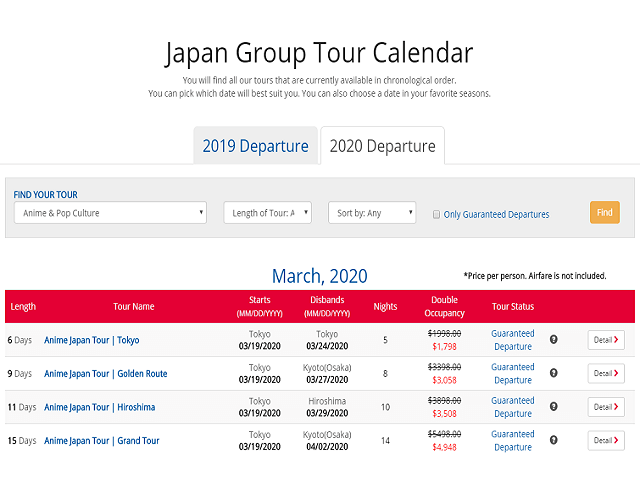 Excited for 2020? With the Tokyo Olympics coming up, a new Emperor in Japan, and incredible collaborations, there's a lot to look forward to in the land of the rising sun. As if it wasn't difficult enough already to pick when to go to Japan, Japan Deluxe Tours is pleased to announce we've added even more AnimeJapan Tours for 2020 in addition to our Tokyo & Golden Route vacation packages.

We've brought back our best-selling AnimeJapan Tour with Hiroshima 11 Day package and our epic Grand AnimeJapan Tour 15 day package for a comprehensive tour through Japan. While our AnimeJapan 6 and 9 day packages cover the highlights of Anime culture in Tokyo & Akihabra, our 11 Day and 15 Day packages give you more of Japan's iconic landmarks, famous real-world anime inspiration sites, and an in-depth look at traditional and modern Japanese culture.

If you've spent time watching hit slice of life anime's like KARAKAI JOZU NO TAKAGI-SAN (Teasing Master Takagi-san), K-On, or Haikyuu! and want to experience typical life in Japan after an epic anime festival, our Hiroshima & Grand tour packages are the perfect vacations!

Explore the real-world inspirations, enjoy coffee jelly like anime-star Saiki Kusuo (The Disastrous Life of Saiki K.), or release your inner stand like Jojo (JoJo's Bizarre Adventure) while exploring breathtaking temples and shrines. You might even see a few real-world shrines featured in hit anime & manga like Kanda Myojin Shrine, prominently featured in Love Live!

Excited for 2020 and all that Japan has to offer? Come before the Olympics with Japan Deluxe Tours on an anime experience that puts Anime Expo to shame with our fully-guided AnimeJapan Tours!
AnimeJapan Tours 2020 Series
Related Tour