New Anime Tour Itinerary for 2019 & 2020 Japan Tours!
Posted:
---
2019 & 2020 Anime Tours are our the Best Yet!!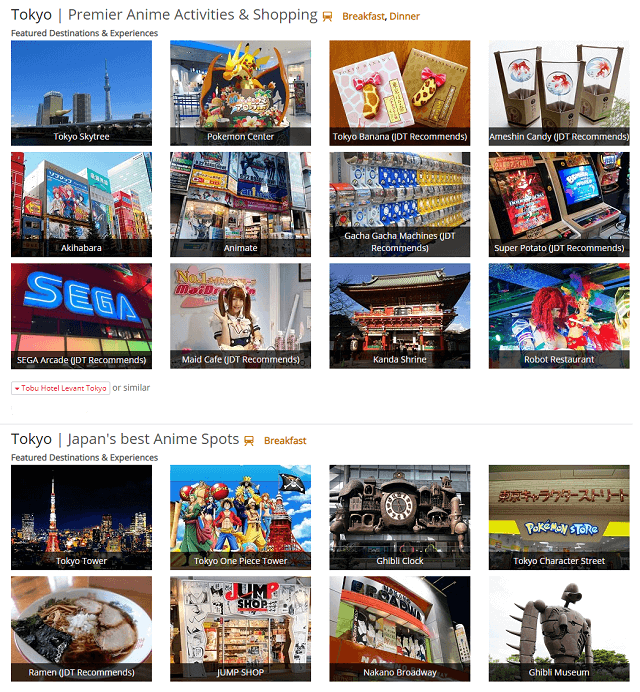 Japan Deluxe Tours is pleased to announce we are updating our best-selling line of small group tours with anime for 2019! Starting from June, enjoy an epic anime adventure with the industry leaders in Anime Japan tours and anime-themed travel. Our expert staff of anime fans worked tirelessly, watched the latest anime, and stayed up to date with manga news to create a travel itinerary perfect for die-hard anime fans and families alike.

Building off the success of our earlier Anime Japan tours and with anime tour packages from 2019, Japan Deluxe Tours revamped our schedule to make up for the tragic loss of J-World (the indoor Shonen Jump manga-themed park). To start, we've added the stunning Tokyo Skytree to explore the Pokemon Center Skytree Town where Pikachu and Rayquaza await. Purchase limited-edition Pikachu goods exclusive to Skytree's Pokemon Center, or browse some of the Japan Deluxe Tour's recommended confectioneries. Tokyo Banana is considered one of Japan's best souvenirs and was the most gifted item in Japan between 2016 and 2017. Ameshin candy produces gorgeous, decorative pieces of candy art. Perfect for a gift back home or your next Instapost, Skytree is a family-friendly feature you're bound to enjoy.

From Skytree, we also added more time Akihabara for you to shop and explore the electric city to your hearts content. Find the fabled 5 pound ramen shop, purchase retro games at Super Potato, or be greeted by your servants at a charming maid cafe. There's also the Kanda Shrine, the only shrine in Japan to offer omamori charms for your electronics. If the shrine sounds familiar, it's probably because you've heard the name from hit anime Love Live!

We're almost halfway through 2019 and 2020 is just around the corner. Enjoy the best of Japan's anime culture with Japan Deluxe Tour's fully-guided Anime Tour Packages. We still include all the best Anime & Otaku spots in Tokyo, including Tokyo Character Street, Nakano Broadway, and the Ghibli Museum. As an added bonus for Ghibli fans, our anime tours now include a visit to the Ni-Tele Clock, AKA the Ghibli Clock. Designed by Hayao Miyazaki himself, you'll lose track of time after hours of fun on a Highlights of Japan with Anime Tour or Anime Pioneer Adventure vacation package!

Note: Costs & fee's for JDT Recommended experiences are not included with your tour.
with Anime Vacation Packages
Related Tour