New Quilt Itineraries Coming Soon!
Posted:
---
Quilt Tours Refined & Updated for 2020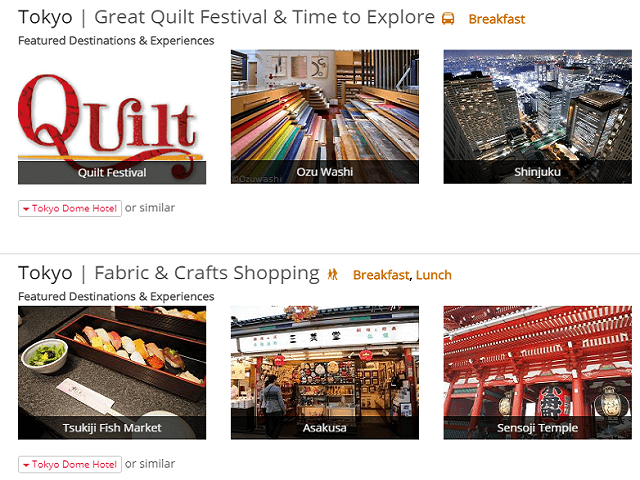 If you've traveled with Japan Deluxe Tours before on our fully-guided Quilt Festival Tours in January or April, you'll be pleased to hear we are updating our itineraries to include new attractions and locations in Tokyo for our 6 day packages. Enjoy all the best quilt and craft shopping spots during an unforgettable holiday vacation with fellow quilt enthusiasts. Our new vacation itinerary has the traveler's needs and thoughts in mind for the ultimate Japan tour.

Updated to include more time in Tokyo for shopping at the top quilt & craft stores, Japan Deluxe Tour's newest Quilt Festival itineraries are sure to start 2020 on the right foot. Enjoy additional time to shop after exploring the sights and sounds of the Quilt Festival in Tokyo with multiple complimentary add-on's and day trips to the Nippori Textile Fabric Town or Shinjuku for shopping at Tokyu Hands and the Takashimaya Department store.

Both our 6 day packages and 10 day packages include traditional Japanese experiences for a balanced vacation, including the iconic Asakusa and Sensoji Temple, the world-famous Tsukiji Fish Market, and admission to traditional Japanese craft museums. Enjoy delicious buffet breakfasts and lunches, with time to explore Japan's culinary masterpieces in Tokyo.

Japan Deluxe Tour's 6 Day Quilt Festival Japan Tour in Tokyo package is now updated with the new itinerary. We will be updating our 10 day package shortly. Travelers can still reserve their spots or request quotes for the 10 day package. Some updates include time spent in Japan's southern island of Shikoku and new modifications to please first timers and repeat customers alike. You can also use our promo code TREAT when booking your tour. Contact your travel agent for more information and updates about our 10 day package, and be sure to check our tour calendar for updates!
6 Day Quilt Festival Holiday Package