New Shibazakura Japanese Flower Festival Tour Packages!
Posted:
---
2019 Spring Flower Festival Tour!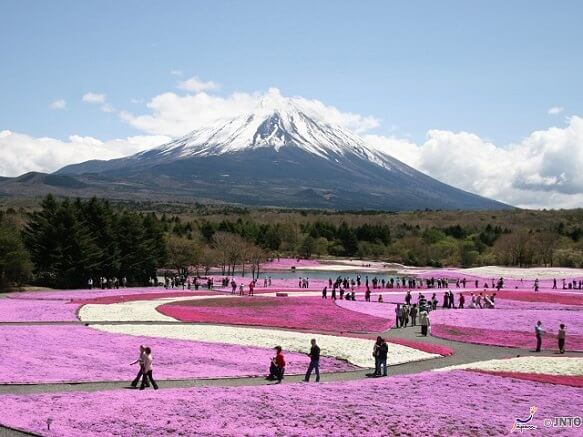 New for 2019, Japan Deluxe Tours has completely revamped our Fuji Shibazakura Flower Festival Tours for an unforgettable floral adventure through the premier flower parks of Tokyo! Travel to Tokyo, Tochigi, Ibaraki, Hakone, and Mt. Fuji to enjoy the brightest blooming peonies, tulips, wisteria and more on this charming Japanese flower vacation package. We've updated our previous line of Shibazakura tours to include only the finest flower parks and gardens in the heart of Japan's capital city.

Start your tour in the heart of Tokyo as we visit incredible shrines to explore the colorful flowers at their gardens. There's also a trip to the towering Tokyo Metropolitan Government Building for a panoramic view of Tokyo's skyline. The next day includes two of Japan's most famous flower fields: the Hitachi Seaside Park and Ashikaga Flower Park. If you've ever seen photos of Japan's flower fields, you've probably seen the vast fields of Ashikaga's baby blues, or Hitachi's breathtaking wisteria tunnel.

Similar to our previous line of Shibazakura Flower tours, our new packages include the gorgeous pink moss of the Fuji Shibazakura Festival and time relaxing in the hot-spring waters at Hakone. However, these new tours include an exclusive experience at Kuraya Narusawa, one of Yamanashi Prefecture's most famous tea producing farms. Dress in traditional Japanese tea-picking outfits and pick fresh green tea leaves for personalized souvenir unlike any other.

Showcasing the premier flower gardens of Tokyo, Japan Deluxe Tour's newest line of Fuji Shibazakura Flower Festival Tours are the perfect vacation for anyone who couldn't make it for the 2019 Cherry Blossom Sakura flowers!
Spaces still available!
Shibazakura Flower Festival Tours | Highlight Destinations
Some of the Top Featured Destinations & Attractions on our Japanese Flower Vacation Package!
Don't wait, book your vacation today!