New Spring Tours for 2020
Posted:
---
Cherry Blossom Holiday Vacations with the Best Tour Guides in All Japan!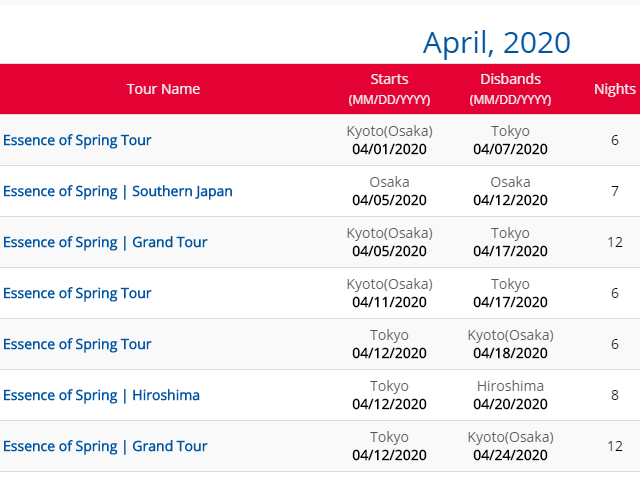 Japan Deluxe Tour's is pleased to announce we've updated our newest line of fully-guided and small group holiday 2020 Cherry Blossom Tours & Vacation Packages on our tour calendar for Spring of March & April! Enjoy the best attractions Japan has to offer during the country's most breathtaking season.

Considered the peak-season to explore Japan, the cherry blossoms transform the country to a magical paradise with a cascade of pink and white sakura petals floating along all the best temples, shrines, and attractions. Enjoy profoundly Japanese experiences like a bullet train ride or green tea ceremony while cherry blossoms dance in the background along the way. While the treasures of Kyoto are always incredible, the cherry blossoms enhances each temple and shrine as if you were in another era!

Enjoy top rated destinations and attractions through all the hot-spots of Tokyo, Kyoto, Hakone, Nara, and Hiroshima on our line of fully-guided holiday vacations. Japan Deluxe Tours is also taking applications for our best-selling line of Anime Japan Tours in March. In addition to exploring the hottest anime, manga, and otaku spots in Tokyo and Akihabara, enjoy admission to one of the largest Anime festivals in all of Japan!

Looking to learn more about Nikkei culture? Our fully-guided Cherry Blossom Nikkei Tours are the perfect package for any Sansei, Yonsei, or Gosei interested in learning more about the migration from Japan to North and South America. There's also our Spring Quilt Festival Tour, Takayama Tours, and Southern Japan Tours for seasoned travelers looking for a unique travel package that goes beyond the usual sights of Tokyo and Kyoto. Note, this years line of Cherry Blossom Japan Tours between Tokyo and Kyoto will all include a free day in Tokyo for more time to explore the sights and flavors of Japan (except for tours with anime).

Japan Deluxe Tours will be adding more 2020 Cherry Blossom Japan tours to our calendar page shortly, including our top-rated Cherry Blossom Tours with Anime packages and our Takayama Festival Vacations shortly. Don't forget, you can get an extra discount promo code by requesting a quote before you book, saving even more on our already affordable line of vacations and holiday travel packages!
Related Japan Tours & Holiday Packages
Related Tour