Open-Air Baths VS Japanese Hot Springs
Posted:
---
Japanese Hot Springs
Inside & Out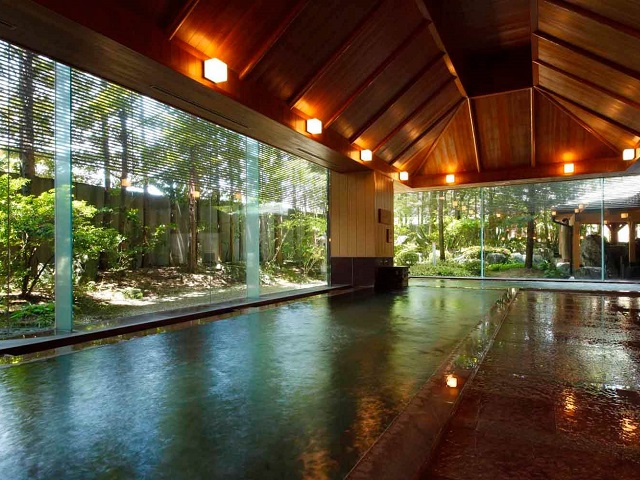 If you've ever joined Japan Deluxe Tours for a vacation package in Japan, or had the chance to explore the country on your own, you know the Japanese people love taking relaxing soaks in volcanic hot-springs waters. Japan Hot Springs or an Onsen is a popular pastime for the Japanese people to enjoy during a day trip to a hot-springs town. Japan is filled with numerous options, from local onsens near by each city to larger, more well-known onsens like the Great Three in Japan (Arima, Gero, and Kusatsu).

However, one charming attraction not found at all hot-springs is the Rotenburo or Open-Air hot-springs baths. Unlike the standard hot-springs found at most Ryokans, a Rotenburo is an incredible way to unwind with a relaxing bath with the comfort of the stars, Japanese flowers, and seasons accompanying your bath.
Scenic Bathing during the Seasons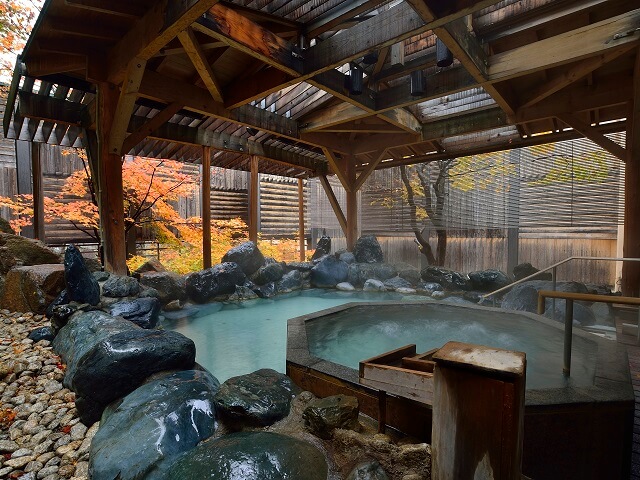 If a hot-springs resort offers Rotenburo bathing, they will either have two separate facilities for men and women, or rotate the use with designated dates. Unlike a bath in a regular hot-springs, the rotenburo are designed with high walls and open space to maximize the use of nature. If you're a fan of the scenery and it's not too cold to walk outside, Japan Deluxe Tours highly recommends stepping out to bath in the rotenburo instead.

For those fans of anime and manga, many shonen anime poke fun at young school boys on class trips to Kyoto trying to peak at the girls in the rotenburo next door. Unfortunately for these anime boys, they never seem to be able to poke their heads over the walls to see what they want, and instead are a reminder to enjoy the natural scenery and relaxing waters of the hot-springs. This is also our playful way of saying not to try what these anime characters are trying.

Jokes asides, the scenery of a rotenburo is often breathtaking, especially for Japanese hot-springs resorts situated along mountain or countrysides. Often isolated and providing panoramic views of the mountains, rotenburo are an amazing way to enjoy your vacation, from the comfort of a relaxing hot springs bath.

Don't forget, not all Japanese hot springs resorts or traditional Ryokans allow for tattooed guests to use their hot springs. Be sure to check with your travel agent before booking, or ask Japan Deluxe Tours to reserve a private room to use a hot-springs bath (if available) for your next Japan vacation.