Rajio taiso (Radio calisthenics)
Posted:
---
Japanese Famous Physical Exercise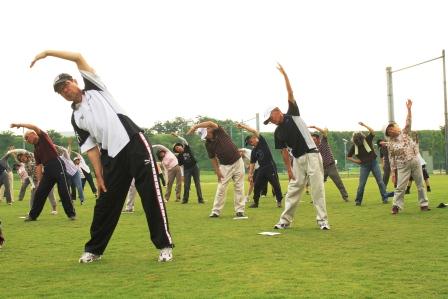 Radio taiso is physical exercise that has been in existence for more than 80 years and is regularly done in the mornings and before gym classes or swimming lessons in Japan. This exercise is beneficial for both youth and adult's physical health. It is designed to use all types of muscles, but is not too strenuous so even elderly people can do it. During summer vacation, students usually get up early and gather at one place with friends and do "Radio taiso". To collect radio taiso stamps is a one of their pleasure. It is typical Japanese summer morning. And also, some Japanese companies use this exercises between breaks and in the mornings to keep their workers healthy. Surprisingly, almost Japanese can do "Radio taiso" when the music plays. It is kind of a strange thing of Japan.