Takoyaki-Japanese fried octopus ball
Posted:
---
Takoyaki-Japanese fried octopus ball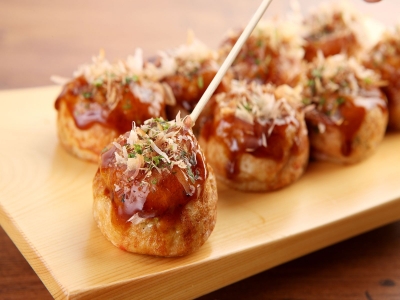 "Takoyaki" is one of Osaka's typical street foods. It is a ball shaped Japanese snack made of flour and it cooked in a special "Takoyaki pan". "Takoyaki" need quite a few ingredients. Usually, it filled with octopus, tenkasu(deep fried flour), pickled ginger and green onion. As for the insides, octopus is typical but when you want to make it, feel free to put in shrimp, chicken, squid or whatever. At first, "Takoyaki" was popular in the Kansai region, and later spread to the Kantō region and other areas of Japan. You don't have to travel to Osaka for "Takoyaki", they're usually found everywhere in Japan. However there are some differences between kansai and kanto. So, it might be a good idea to compare these "Takoyaki". "Takoyaki" is now sold at supermarkets and even 24hour convenience stores. "Takoyaki" fascinate with you if you don't eat octopus usually.