Taro's Japan Tour Adventures: McDonald's Japan!
Posted:
---
Quick Treat at a Familiar Spot!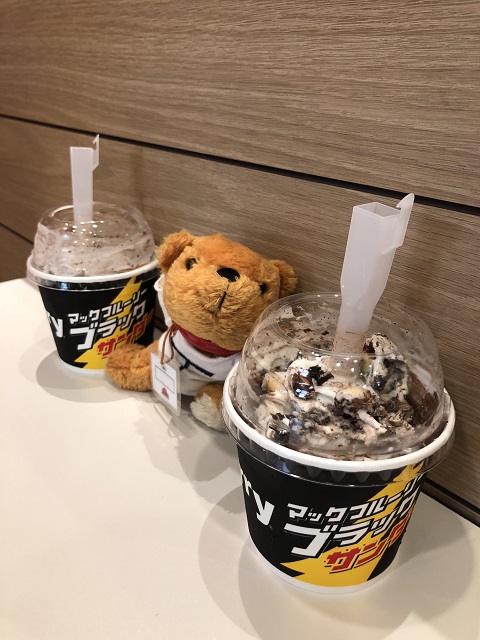 So before you read the title and question why it is I like McDonald's in Japan, I want to start by saying it's not like I'm eating McDonald's every meal. With sushi, tempura, tonkatsu, and more (I don't think you need me to keep listing), there's always something to enjoy whether it's on the streets of Osaka or through the crowded Tokyo Station. But even with so many great options, every now and again I just want to grab a quick bite and go back to my hotel to unwind. This is probably the biggest reason I love going to McDonald's in Japan. It's really just to switch things up and the flavor at Japanese McDonald's (in my humble opinion) is better than some of the Golden Arches available stateside. But what is it that makes Japanese McDonald's a must?

To start off, I'm sure you noticed these two unique looking McFlurry's next to me (photo to the right; both mine). As I've covered before and I'm sure if you've spent any time at our News Page, you know Japan has no shortage of collaborations between companies. So it's no shock to say McDonald's Japan also jumps on the hype train time to time with crazy combinations. The one next to me? A dynamic mix of chocolaty goodness in the form of Japan's Black Thunder Chocolate and McFlurry Collaboration. If I had photos of the Pikachu McFlurry, I'd post that one too but this Black Thunder McFlurry was amazing. I know I know someo of you may say But Taro, McDonald's in the states has Shamrock Shakes and M&M McFlurry's! to which I say yes, you're not wrong, but this was better. Subjective nature aside, while Oreo's or M&M's are mixed in, this Black Thunder McFlurry felt extra special with the unique cup and chocolate chunks unique to the candy bar.
Burgers with a Theme?!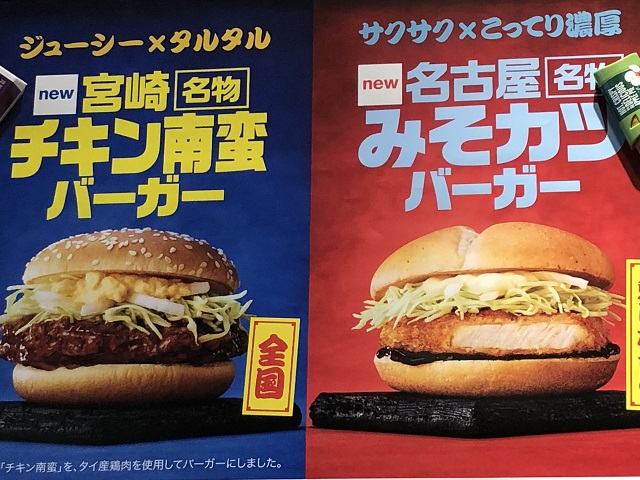 Next to the desserts, another reason I love Japan's McDonald's is with their unique burgers. Don't get me wrong, Lotteria or MosBurger may be the kings when im in Tokyo, but McDonald's Japan keeps it fresh with limited edition burgers and sandwiches based on regions of Japan. For example, this poster to the left features the Nagoya Miso Katsu Burger and Miyazaki Prefecture's Chicken burger. Each reflect the various specialties of the region in a handheld, delicious package. There have also been burgers themed on Tokyo, Osaka, and even the United States! While I hit up Lotteria to grab a fried-shrimp burger, you can bet I'll make my way over to McD's for a tonkatsu burger as well.

It's great to travel and discover new cultures, but sometimes it's just nice to have a familiar face or meal wherever you go. I'm sure you've probably heard of a friend or friend of a friend that went to Italy just to have McDonald's because it serves alcohol. Well, this is kind of like that? Sometimes, it's just as fun to see how different cultures approach a new subject: such as Japan & American hamburgers. I'm not saying skip the ramen, hoto, or teppan-yaki, but don't feel so bad about stopping at Tokyo Station's McDonald's during a Japan tour to grab a bight from your favorite Golden Arches across the ocean!