Taro's Japan Tour Adventures: Udon & Soba Flavored Snacks!
Posted:
---
My Favorite Noodles... are Chips Now?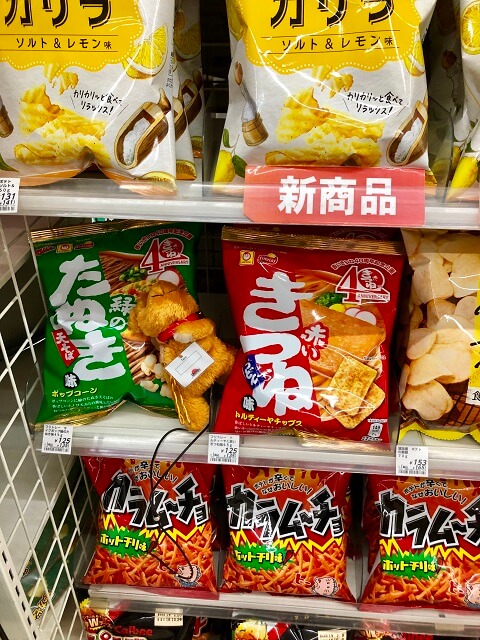 I'm sure it comes to no surprise to hear Japanese food is one of my top-favorites! It's not just that I like Japanese-food, but I also love going to fast-food chains of popular American restaurants in Japan. Why? No idea. Do I think it tastes better in Japan? A little bit. Even when it comes down to trivial things like a bag of chips or snacks, I tend to prefer Japanese brands or instant noodles to instant pizza. However, on one of my recent trips to Japan, I was very shocked with what I found when visiting the local convenience store.

Upon entering the convenience store, my tour guide showed our group where they could get something cool to drink and made some recommendations for snacks. Don't get me wrong, I love Lawson's fried chicken and all the other goods, but I wanted to get something to hold me over a little later in the hotel room. From the corner of my eye, I spotted the most interesting bag of chips yet. Decked in shiny red and green, my eyes were instantly drawn to the Kitsune Udon and Tanuki Soba snacks. For those who don't know, Kitsune Udon and Tanuki Soba are two popular instant noodles sold by the Maru-chan company. I've eaten over hundreds of bowls of the kitsune flavor myself and I have friends who love the tanuki soba, but this was unreal. Chips that taste like udon? I had to try it out.

I grabbed a couple bags of the kitsune (given that it's my favorite) and a bag of what I thought to be tanuki soba chips that later turned out to be popcorn. Apparently, Maru-chan and Frito Lay (makers of Doritos) decided to mix things up with chips and popcorn than just chips. A nice move on their part because without dip, chips can get kind of dull pretty fast. The kitsune udon chips were all little squares meant to look like the fried tofu served on top of the noodles. The flavor was similar to the udon-broth usually sold by Maru-chan, but it wasn't something I'd go out of my way for. It was a solid chip with good flavor, but I kept thinking too much about the way real Kitsune Udon should be served that I think it ruined the experience for me.
A Close Up!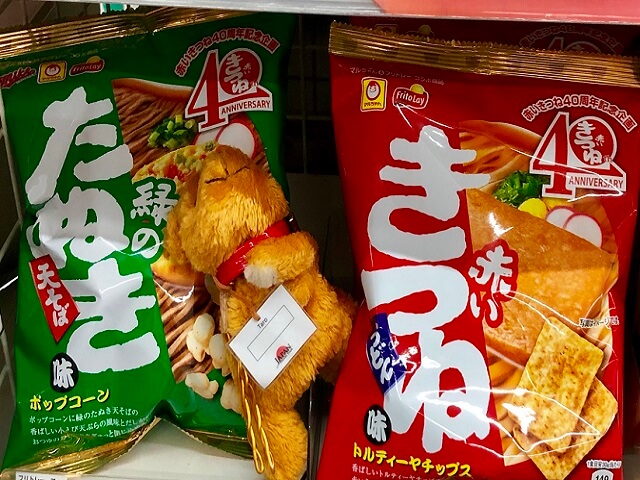 The green Tanuki Udon instant soba was actually a great topping for popcorn. The tanuki flavors were supposed to be reminiscent of the tempura flakes served on top of tanuki soba than the broth. This popcorn was a definite hit over the chips, and I made my way through half the bag without realizing it. If I had to compare it to other styles of popcorn served with cheese or butter, this was definitely a much more savory option.

While the popcorn turned out to be the winner over the chips, these snacks caused a big stir when I brought some back home for friends. Most of them have seen Maru-chan's kitsune udon or tanuki soba before, so they instantly recognized the bag's design and helped themselves. I must admit, this may not be the tastiest souvenir to buy someone, but it's still one of the best finds I've had all year in Tokyo!