Toei Kyoto Studio Park -Uzumasa Movie Park-
Posted:
---
Toei Kyoto Studio Park -Uzumasa Movie Park-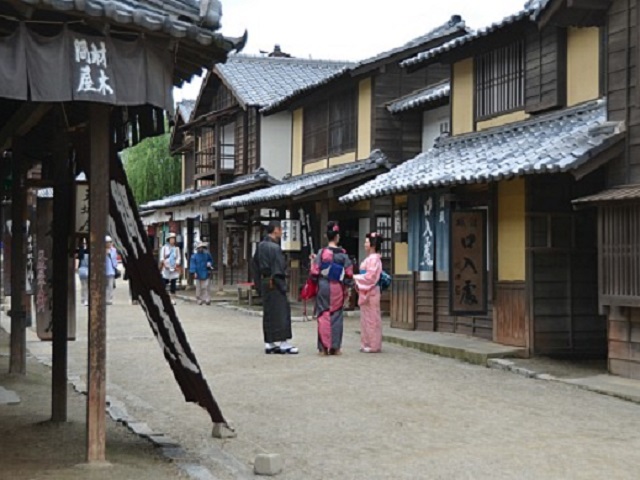 If you love Japanese culture and history, like Japanese swords, kimono and so on, you may be interested in visiting Toei Kyoto Studio Park. The park contains a wide Film Set Viewing Area and Attraction Area.

Film Set viewing Area looks like real streets in the Edo era and the Meiji era. The area is used when historical dramas are recorded. So you sometimes happen to see recording sceneries of dramas in this area. Also, you can enter houses on the streets. It makes you feel that you are actually in the Edo era. What is more, You can experience to cosplay Kimono, Samurai costume, Ninja costume, and Japanese armor, to eat some foods and walk around the streets. If you want to take pictures of yourself, there are professional photographers.

In the Attraction Area, you can enjoy many activities inspired by Ninja with your children. There are athletic-like attractions such as Ninja Training Dojo SWORD N' GO, Laser Mission Escape the Catsle, and 3D Maze The Ninja Fort. If you don't like athletics, you can try Japanese Haunted House, Ninja Mystery House, and Trick Art Museum.
We strongly recommend you Japanese Haunted House if you like this kind of attractions. Because this park is operated by Toei, which is one of the most popular productions of films, the set of a traditional Japanese style house is high-qualified, the effect and properties are wonderful and terrifying, and casts are very well at play. Therefore, it is said that this house is one of the scariest haunted houses in Japan. It's totally different from haunted houses in the US, so you can experience a new kind of terror in the house!

In the park, there are Not only attractions but also some shows. The Ninja Show, SASUKE is the show with 3D projection mapping and Ninja action. Samurai Sword Fighting Lesson is sword fighting show and some audiences can join the show and learn some moves of sword fighting.

For Dragon Ball and Sailor Moon fans, Toei Anime Gallery is a must-see place. The gallery is located near the entrance of the park. There are posters, drawings, and plastic models of characters.

You can enjoy this park alone, or with your friends, partner, and family. So why don't you visit Toei Kyoto Studio Park when you stay in Kyoto?
There are also special events that change regularly. Please check the details on their website.