Paralympics Bizarre Adventure?
Posted:
---
the Sky above The Great Wave off the Coast of Kanagawa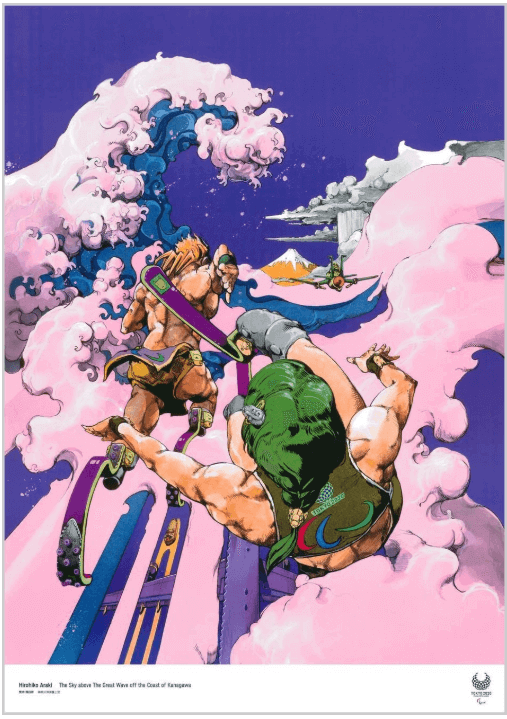 OH MY GOD! I can't stand still thinking of how much excitement is rippling through Tokyo as the official poster for the 2020 Tokyo Paralympics are beginning to be unveiled. Held alongside the Tokyo 2020 Olympic Games, the Paralympics are gearing up for an exciting summer in the island nation of Japan. To help promote the event, famous manga artist Hirohiko Araki lent his pen to the Olympic design committee to create this stunning poster dubbed The Sky above The Great Wave off the Coast of Kanagawa (神奈川沖浪裏上空)!

While Araki-sensei's work is incredible, there's plenty of little Jojo's Bizarre Adventure Easter eggs for any die-hard Stand fan. Designed to give the viewer an impression as if they were competing in the race, we see two figures darting through the clouds with running blades. The runner in front bears a strong resemblance to the 5th Jojo's (GioGio) father and unrelenting villain Dio Brando, complete with decorations matching his Stand: The World. The second place runner has a few subtle Easter eggs, including a Stone Mask accessory and a hair-clip resembling GioGio's Stand: Gold Experience. There's also Naranchia's Stand: Aerosmith floating ahead, and one of the runner's blades includes an image of a cat, a likely call back to Diamond is Unbreakable baddie Kira Yoshikage (and his partner in crime: Stray Cat).

Set above the clouds, the most iconic image has to be the Great Wave off Kanagawa wave the runners seem to be headed towards. The Great Wave off Kanagawa is an Ukiyo-e (woodblock print) from the famous Japanese artist Hokusai, and is easily one of the most recognized pieces of Japanese art around the world. There's also a commercial airplane below the runners, as well as a boat headed towards Japan, all meant to signify the world's excitement heading towards the 2020 Tokyo Paralympic games.

With Summer 2020 around the corner, everyone in Japan is excited for the coming Tokyo Olympic & Paralympic games. Japan Deluxe Tours hopes you can join us during select Japan tours during the summer to enjoy the festivities and sportsmanship during this wonderful world-event.