Travel Japan: Ritsurin Garden
Posted:
---
Japanese Gardens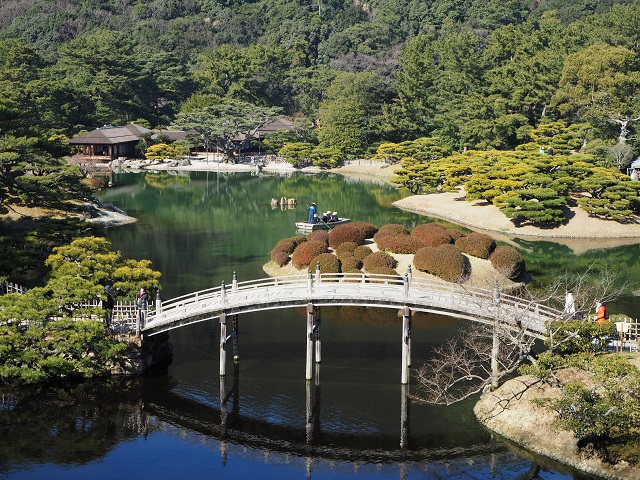 Japan has a unique culture that values the latest technology as much as tradition. One of the best way to experience traditional Japan is with a visit to a Japanese garden. Influenced by Japanese aesthetics and philosophy, these gardens have a uniquely and calming feel to them that can be easily identified as "Japanese". Japanese gardens are so popular, their influence has reached other parts of the world like the United States, Canada, Australia, and more. What makes these gardens so unique is the dynamic balance of nature while managing not to overwhelm visitors. Japanese gardens are so much part of the culture, that there are three known as the " Three Great Gardens of Japan", made up of Kenroku-en in Kanazawa, Koraku-en in Okayama and Kairaku-en in Mito. The garden above is Ritsurin Garden in Takamatsu
Relax with a Boat Ride or Tea?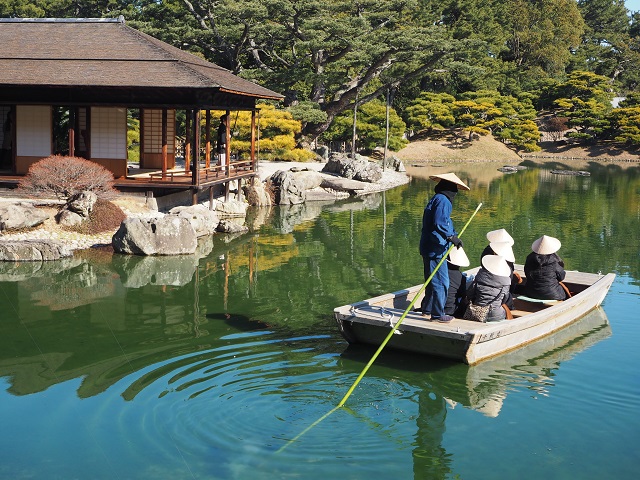 One of the best ways to experience a Japanese garden is with a tour. During my time in Ritsurin Garden, I was fortunate enough to have an excellent tour guide to explain the various trees, flowers, and other sights. We stopped for some snacks in their traditional tea house as well, though there are also a couple of stops in the garden for refreshments or gift ideas. Even though it was still winter, the bonsai trees were all cut with expert precision, maintaining the refined beauty throughout the garden. Unfortunately, we didn't have enough time (or enough boats for that matter), to take a ride through the garden, but after taking this photo, I would put it on my "Japan Bucket List" without a doubt. The waters are clear enough to see koi-fish swimming through the ponds. There is an option to feed the koi, just don't take a bite out of the fish snacks like one of our group members did. Overall, even though Ritsurin Garden isn't one of the "Three Great Gardens of Japan", that's not to say it isn't amazing. A morning through any Japanese garden is sure to be magical, but I'm glad mine was spent in Ritsurin Garden.
Wedding Photos anyone?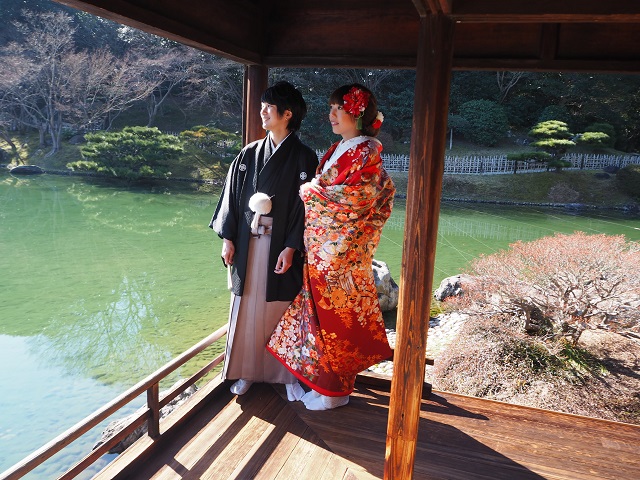 One of the best things that happened while in Ritsurin Garden was accidentally stumbling upon a wedding photo shoot. We were fortunate enough that the bride and groom let us take some photos, which is just another great thing to do in a Japanese garden. Here's to the happy couple!