Travel Japan: Tour in Japan (Day 1 & 2)
Posted:
---
9 Years Later
After 9 years since my last visit to Japan, I had been yearning to go back and visit to see how much it has changed as well as explore/travel overseas on my own for the first time. Luckily, I was given the opportunity to join an escorted group tour in Japan during the spring, just in time for the cherry blossom season! Now I'm usually one to wander on my own see where my feet takes me so the idea of being led by the tour guide initially had me kind of bummed. But I couldn't complain about the opportunity and settled to make the most out of the whole experience.
Back In Japan!
After a 12 hour flight, I had landed at Kansai International Airport around 5 or 6 PM. In order to somehow combat the jetlag that would ensue upon arriving in Japan, I had decided to stay up for majority of the flight. Thankfully, the pent up excitement as well as a very efficient immigration and customs process helped to keep me going delirious from lack of sleep. Upon walking into the arrival lobby, I managed to find my name on a board being held by one of the workers who worked for the airport transfer company. After making sure I picked up my pocket Wifi rental (a necessity if you want to have internet on your phone) and a 15 minute wait, I was on my way to the first hotel in Kyoto. Once I arrived at the hotel and checked in, I immediately went out to seek a vending machine for some refreshments. This is a must, by the way, if you're in Japan. Soon after grabbing drinks, it was time to sleep and rest up for an early morning.
Nara Deer Park/Todaiji Temple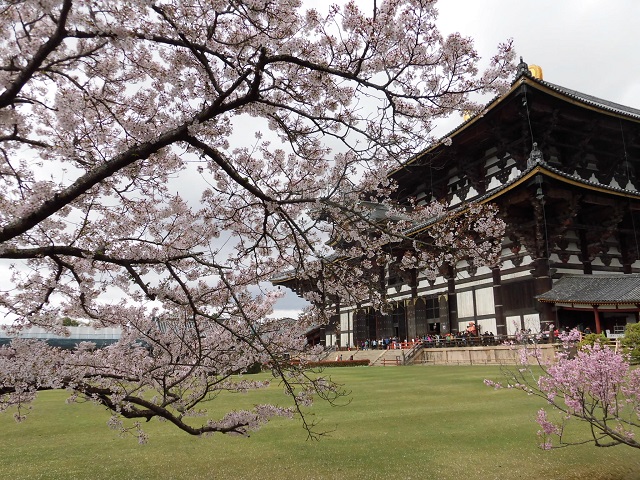 Food is always something I look forward to, especially in Japan. Breakfast was a buffet style with a variety of traditional Japanese side dishes as well as Western-style food such as omelettes, scrambled eggs, and bacon to name a few. For my first meal in Japan, I couldn't be happier. I met up with the tour group and guide in the lobby around 8:30 AM. After some introductions, we were on our way to Nara to visit Todaiji and the Nara Deer Park. The train ride was about an hour and a half which was enough time to take a quick nap (I'm definitely not a morning person). A short bus ride from the Nara train station and we were at the park. With rain in the forecast for the next few days, it was kind of a downer but it did not take away from the experience. A chance to see the famous Nara Sika deers and the largest bronze statue of Buddha (Daibutsu) was certainly one of the highlights of the trip.
Fushimi Inari Taisha/ Gion District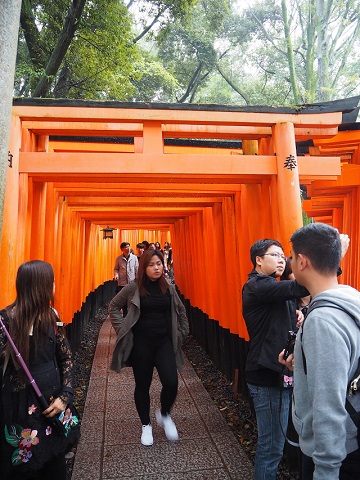 We spent majority of the morning in Nara before heading back to Kyoto. For lunch, we ate at a traditional Japanese restaurant called Minetora. Though the meal set was pre-ordered for us, I had no complaints. A very traditional Japanese dish with a little bit of everything; fish, steamed egg, tofu, udon noodles, meat, and rice. This was the type of food I was craving since arriving in Japan as meals like this were not as cheap or available in the states. After a nice warm meal, we made our way to Fushimi Inari-taisha, the main Inari shrine in all of Japan most well known for the thousand torii-gate tunnel. Although it was still raining, it still did not detract from the beauty of the various structures as well as the many cherry blossoms that were blooming around the shrine. Now because it was during the cherry blossom season, it was packed with tourists from the small street stalls at the base of the shrine throughout the grounds and the torii tunnel. Although it was kind of annoying, it is something that every tourist has to deal with as well as the locals. As late afternoon/early evening approached, we had one last location for the day which was the Gion District which is well known for geishas and maikos (geisha in training) walking around as well as the traditional wooden style buildings. The atmosphere is very laid back and relaxing as we strolled through the district. Some of the tour members even got to see a few maikos walking by which is rather rare as they are only seen when walking to and from their living spaces. After a full day of travelling around Kyoto, it was time to return to the hotel to rest and rejuvenate for the next day