Travel Japan: Tour in Japan (Day 3 & 4)
Posted:
---
Kiyomizu/Ninenzaka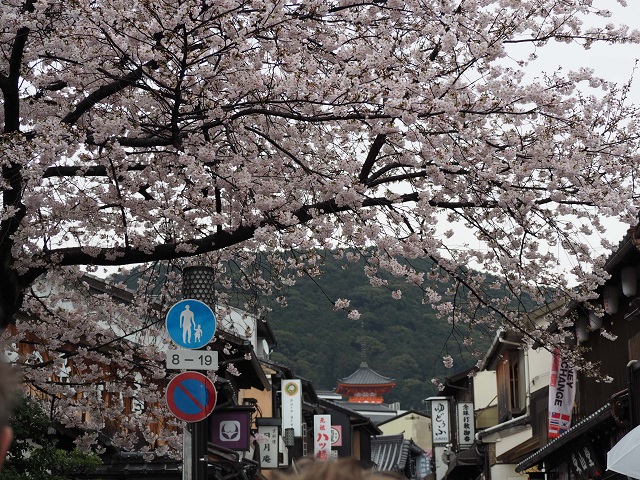 With the jetlag still somewhat in effect, it was difficult to get a good night's rest. A nice, long shower helped to wake my body up as well as some delicious food for breakfast. We started the day off with a trip to the famous Kiyomizu Temple which turned out to be a great plan. With rain in the forecast again, we made our way through the rain up through Ninenzaka, a part of town with very traditional wooden Japanese buildings with local gift shops and small food items/snacks. Unfortunately, since the beginning of the year, Kiyomizu Temple had been under renovation and will be until 2020. We were still able to walk through the temple but unable to see the iconic view of the platform with the view of Kyoto in the background. Nonetheless, it was still very much worth the visit, walking through the temple grounds and viewing the many cherry blossoms, which made for some great pictures. After a stroll through the temple, we walked back down to Ninenzaka and Sanenzaka. A browse through some of the local shops and we were on our way to watch a demonstration of the traditional Japanese tea ceremony. All 25 of us sat in a traditional Japanese-styled room with tatami mats as the lady performed the ceremony. Something about just watching the ceremony seemed to calm the mind and just felt very relaxed. It was much needed after all the stress of traveling in a different country and getting used to the time difference. We also got the chance to whisk our own bowl of matcha as well. It was much more mild than the matcha I've had in the states. I guess that's just the quality of the matcha powder speaking for itself. It was certainly a great way to end our sightseeing in Kyoto.
Kushiage/Shinkansen/Hamamatsu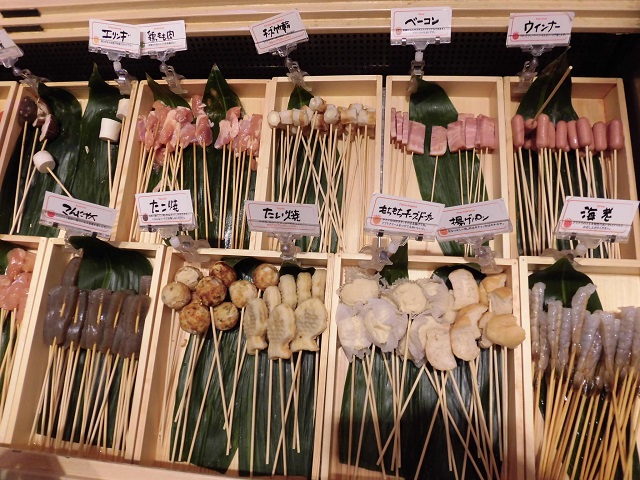 The next hotel we were staying was in Hamamatsu, which is some distance away (about an hour and a half via public transportation). But before heading there, we needed to grab some much needed lunch so we stopped by the Yodobashi Camera in front of Kyoto Station. Yodobashi Camera is a fairly big department store mainly focusing on electronics but the upper levels have clothing stores, toy stores, and a food court with many options. For lunch, we had something a bit more modern in the form of kushiage. Kushiage is deep fried skewers that was supposedly invented in the early 1900's as a cheap, fast, but ultimately delicious meal that anybody can enjoy. The kushiage place we went to was all you can eat so we made sure to take advantage of the offer to fill ourselves up. With a variety of options for skewers (beef, chicken, seafood, veggies) to drinks and dipping sauces, it certainly made for a fun meal. We were also given some time to shop around the department store to see what stores were like in Japan. After about an hour or so, it was time for us to catch our bullet train ride to the city of Hamamatsu where we would be spending the night. The bullet train ride took about an hour or so which meant the food cart would not be passing through our car. But thankfully, our tour guide actually prepared small bag of popular japanese snacks and candies for everyone which helped me get by until dinner. Upon arriving in Hamamatsu, we had some free time until our traditional Japanese style dinner called kaiseki ryori. I chose to take a stroll around the hotel grounds and enjoy the ocean breeze. Luckily, there were cherry blossoms on the premises as well which just enhanced the experience. Our dinner tonight was one I was looking forward to as it was kaiseki ryori. A variety of small side dishes accompanied with Hamamatsu's famous salt water eel and a small portion of shabu shabu, it was a meal that consisted of many different flavors and textures. I would say it was one of the best meals I had during my stay in Japan. After a full day of traveling and dinner in the stomach, it was time to retire for the night and recharge for the next day's travel.
Hakone/Open Air Museum/Lake Ashi/Mt. Fuji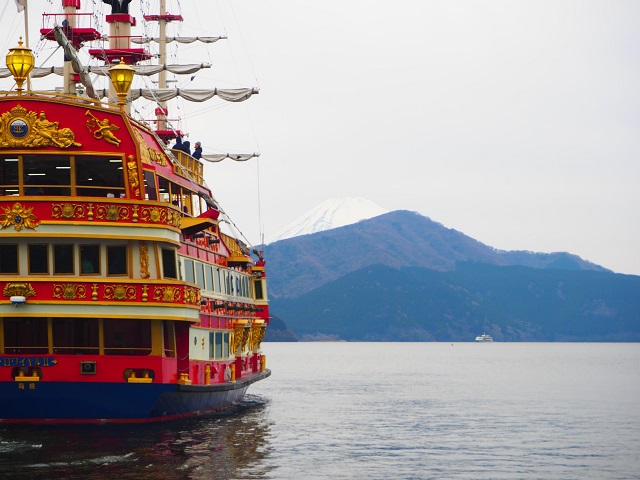 Breakfast was buffet style but had more of options of traditional Japanese dishes and comfort food which was a nice change. I made sure to fill myself up with plenty before moving hotels to the big city. The tour was heading to Hakone for the day although, sadly, we were not going to stop to take a dip in the famous local hot springs. We had a 2 and half hour ride to Hakone from Hamamatsu but it was well worth it given that we were lucky enough to see Mt. Fuji clearly, even though it was relatively overcast. The best time to see Mt. Fuji is during the winter season while summer is the worst. Spring and fall tend to be hit or miss but as I said, we were very lucky to get a clear view of Mt. Fuji. Hakone, being a relatively mountainous region, was very chilly that day as weather had been rather dreary throughout Japan the last few days before. The Open-Air Museum was certainly an interesting spot. With sculptures on display out in the open, we were able to view the sculptures with a very scenic background. The contrast made for very nice pictures and an interesting experience. From there, we went to Owakudani, a volcanic valley famous for their kuro-tamago or black boiled eggs. A highly pungent sulphuric smell and windy weather made for a very cold and smelly visit, which is to be expected might I add. There was a merchandise store inside that also sold the kuro-tamago which many of us tried. It is said to add longevity to your life, seven years to be exact. I don't know if I felt any different after eating one but it tasted like any normal boiled egg. But definitely worth the experience. Next up was taking the gondola, Hakone Ropeway, down to the famous Ashinoko or Lake Ashi. Known for it's view of Mt. Fuji on clear days, it is certainly a must if you're in the area. There is a cruise/ferry that takes visitors from one end of the lake to the other which is also part of the experience. Unfortunately, as the weather was not the best, the cruise itself was extremely cold and winds made it even colder because were on top of a body of water. So, for future travelers, double check the weather before going on the cruise. You may need to bundle up!
Tokyo!/Daiba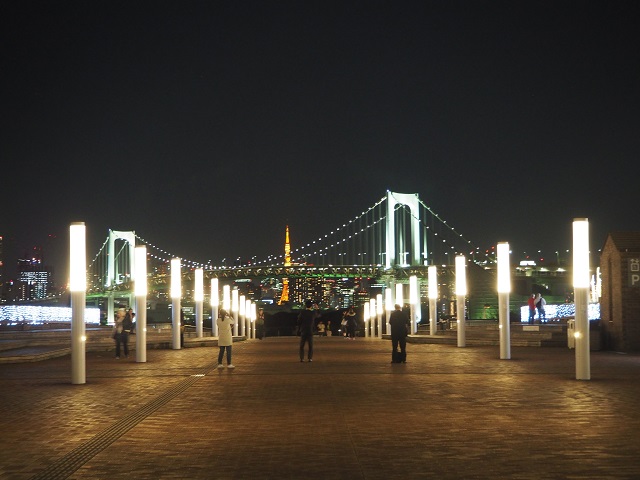 After a chilly ride across Lake Ashi, we were finally headed for Tokyo and the first taste of the pop culture during our trip. Another hour and a half bus ride later, we arrived at our next hotel in Daiba. I was given a room that overlooked the bay with an awesome view of the Rainbow Bridge as well as Tokyo Tower. The night view was amazing with all the city lights and clear skies. I definitely lucked out on this one. After checking in, we were left to our own devices which meant exploring the area and grabbing some dinner. Daiba is well known for the Fuji Television Building with the sphere in the middle as well has Diver City which has a giant Gundam on display in front of the mall. Unfortunately, because the sun had already set and it was raining, I did not get a chance to visit the two despite being rather close to the hotel. Instead, I made my way over to Aqua City across the street which was your typical mall with some brand name stores and other small boutiques. But what really amazed me was the huge selection of food at the food court. There were two floors dedicated to just restaurants, desserts, cheap eats, etc. I settled with ramen as I had yet to have ramen up until that point during my visit. With the rain and cold weather that had been upon us the previous days, it was the perfect meal to warm the soul, the epitome of comfort food on a cold day. With a warm meal in my stomach, it was time to relax after a long day of traveling and enjoy some television before going to sleep.