Nice-to-Have Item for Traveling and Souvenirs
Posted:
---
Omoiyari goods available for purchase only in Japan that help support a comfortable trip in Japan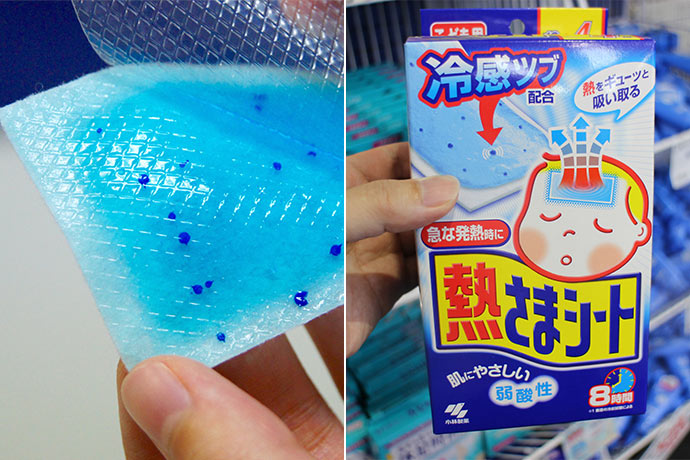 The Japanese manufacturing spirit has an excellent reputation for their strong passion of "quality improvement" and their persistent attention to small details. KOBAYASHI Pharmaceutical Co., Ltd. is no exception. "Kobayashi Medicine for Tonsillitis", which relieves the swelling of tonsils, is a good example.

The developer of "Kobayashi Medicine for Tonsillitis" is a researcher whose tonsils swelled up because he pushed himself to work too much. From his experience of not being able to swallow medicine because of the pain in his throat, he started developing chewable tablets (tablets to take by chewing without water) that give a cool feeling and instantly turn into foam. However, he found that those suffering from swollen tonsils have trouble even swallowing foam. He tested many times and made it into a granulated powder that can be taken without water. The heat of dissolution of the granulated powder cools down the affected area, which has a soothing effect on the tonsils. Also it did not have a bitter taste common to medicine and became a product that is very easy to take.

The first liquid bandage in Japan "Kobayashi Medi-Shield Liquid Bandage" was created by a developer who learned that many housewives have problems of water irritating their hangnails when they do housework using water, and that he "wanted to help them". He adopted a brush to make it easy to apply it to their fingers like nail polish, but went through many trials and errors to find suitable quality of materials and density to prevent the brush from hardening. "Omoiyari" products that provide convenience and comfort in your life can be easily purchased when you face an "inconvenience" during your trip, and are available all over Japan including drugstores. If you find one you like, why don't you take it home for souvenir and share the reason why it is very popular.
Quality Improvement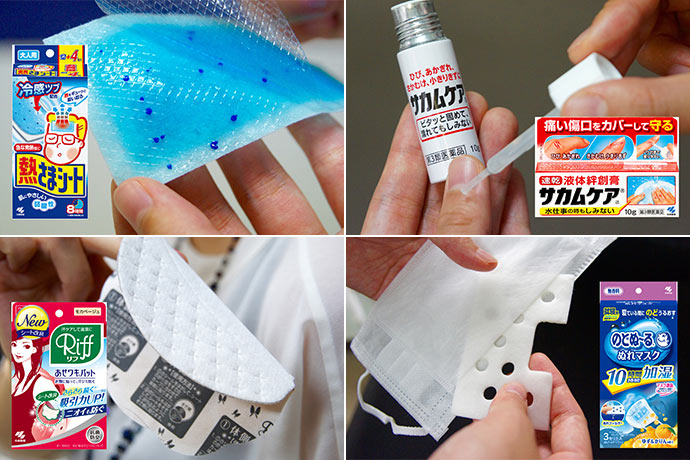 The development of the product, paying attention to every small detail, supports the quality of the Japanese manufacturing spirit. Small balls that give the cool feeling in "Kobayashi Netsusama Cooling Gel Sheet" (top left) were developed so the cooling power will last longer. "Kobayashi Medi-Shield Liquid Bandage" (top right) has thin and transparent film that does not stand out and is waterproof, so it is popular among housewives who use water for housework. "Kobayashi Underarm Sweat Sheet" (bottom left), that protects your clothes from getting yellow sweat stains, developed the quality of the material that fits your movement and does not leave sweat or odor. The essential part of the "Kobayashi Nodonool Wet Mask" (bottom right) which prevents having dry throat is the "Wet Filter" to keep moisture.
More Information >>