Updated Takayama Festival Autumn Tours!
Posted:
---
New Itinerary for Autumn 2019 Takayama Festival Tours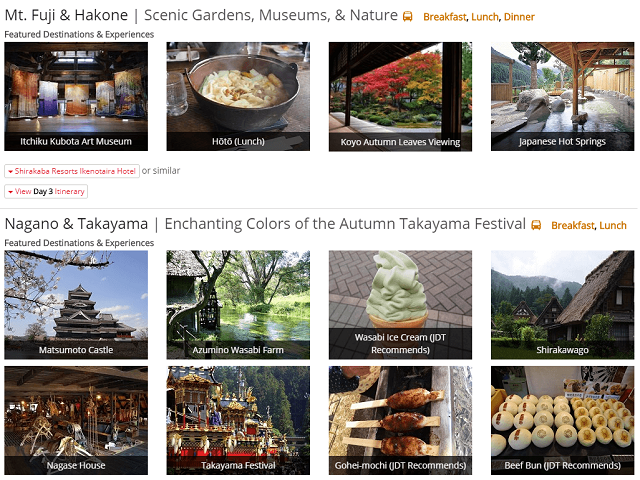 As the spring season wraps up in Japan, Japan Deluxe Tours is preparing for the new wave of vacations and travel plans for our clients. After updating our best-selling Anime Japan Tours, Japan Deluxe Tours is pleased to announce we've updated our travel itineraries for our fully-guided small group Takayama Festival Autumn Tours for 2019.

Featuring all the best tourist attractions and destinations loved on our Spring Cherry Blossom Takayama Tours, our autumn vacation packages are fully-guided vacations through the highlights of Tokyo, Kyoto, Nara, and Takayama. We've made just a few slight changes and upgrades for this fall package for an unforgettable vacation for couples, families, or solo travelers.

Exclusive to our line of Takayama Japan tours, enjoy a stay at the incredible Shirakaba Ikenotaira hotel. This is one of the few hotels in Japan that allows guests to enter the hot-springs with a bathing suit. There's also many family-friendly amenities onsite to keep all members of your travel party happy and excited.

During our updated Autumn Takayama Festival vacations, we will also stop to enjoy Koyo leave viewing. Much like how the Japanese love spring for the bright and beautiful cherry blossoms, the fall is marked with the changing colors of the leaves. Enjoy the stunning views with your tour group before relaxing in a hot-spring bath at your hotel.
Autumn Festival Exclusive: the Miho Museum
Standard with all our Takayama Festival Japan tours, enjoy the sights of Takayama, Shirakawago, Matsumoto, Kanazawa, and more during this tour. Of course, we've added an exclusive visit to the Miho Museum during your stay in Kyoto. Home to a collection spanning over 2,000 works of art, the Miho Museum is a vast collection of Japanese & International art nestled between the scenic mountains of Kyoto.

Home to the 2018 Louis Vuitton Fashion Show, the Miho Museum blends cutting edge architecture designed by world-renowned architect I. M. Pei with the natural scenery of Kyoto's untouched nature. Browse through an impressive collection of art, or relax at the on-site cafe, serving naturally grown produce close to the museum grounds.

All of our small-group Takayama Festival Japan tours include Shirakawago, Kenrokuen Japanese garden, the Moss Village & Wisdom Forest, the Azumino Wasabi farm, and of course, the Takayama Festival. There are also many experiences included on all our Japan tours to look forward to, including the bullet train ride, green tea ceremony, hoto lunch, and traditional Japanese dinner. Immerse yourself in Japan's arts & cultures during our fully-guided line of Takayama Festival tours, departing October 2019!
Japan Deluxe Tour's Autumn Takayama Festival Vacation Packages
Related Tour