Special Summer-time Fanta for Japan
Posted:
---
Watermelon+Salt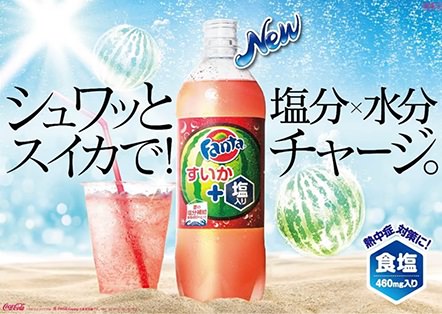 If you've ever been to Japan in the winter, you know that it can get pretty chilly. Likewise, in the summer time, things heat up after the rainy season and it gets hot and muggy. While that already is a pain, Japan has a high number of heatstroke victims, especially between July and August, when the country is typically at it's hottest. Coca Cola Japan has a solution to the heat, in the form of new Watermelon+salt flavored Fanta for the summer.
The added salt (.02 ounces) in addition to the sugar and soda are supposed to help nourish, replenish, and hydrate the body to help prevent heat stroke by making up for salts the body may sweat out during the day. Apart from the wonderful effects the soda has, watermelon and salt is a classically Japanese summertime snack. Fusing an already popular drink with something so Japanese is bound to make it a hit when it hits the shelves.
Packaging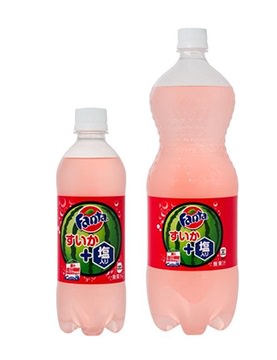 The bottles come in two sizes: The 490-mL (16.6-ounce) bottle is set to retail for 140 yen, while the larger 1.5-L bottle will be on sale for 320 yen.
Another Packaging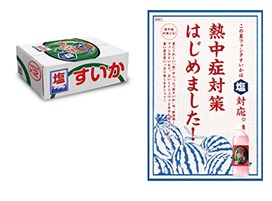 They also have special packaging options which include two bottles in a box, designed to look like you've bought an actual watermelon from the supermarket.
Data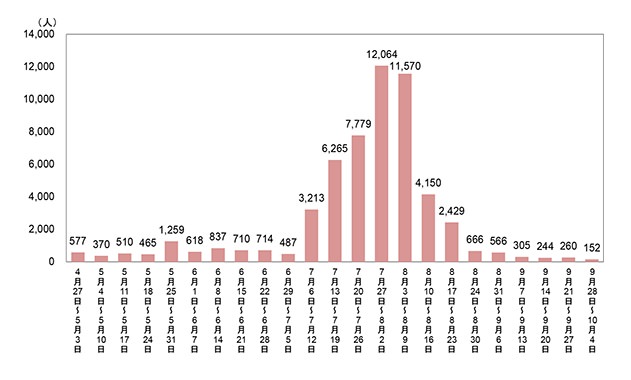 Although it's in Japanese, the Coca Cola website in Japan also included numbers on heatstroke victims throughout the year. You can see between July and August, the numbers are staggering.