Gundam X Georgia Emerald Mountain Blend Collaboration Cans
Posted:
---
40 Years of Gundam & 25 Years of Georgia Emerald Mountain Blend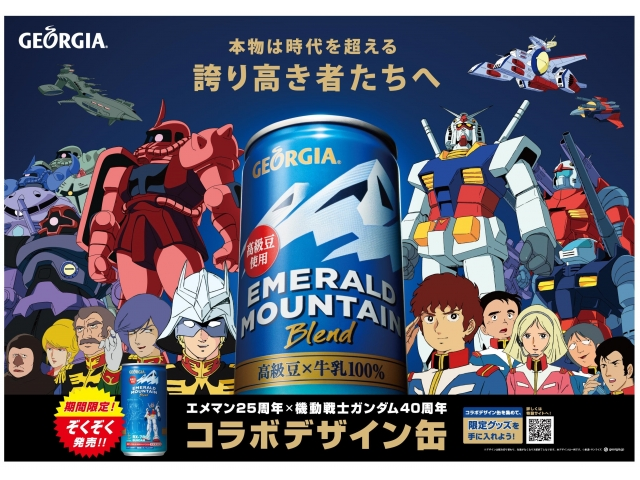 With a collaboration with Seiko watches already in the works, it looks like Mobile Suit Gundam found another way to celebrate the anime's 40th anniversary with another awesome collaboration. This time, canned coffee brand Georgia Emerald Mountain Blend is lending their cans for special Gundam-themed designs to celebrate the anime's 40th anniversary and their own 25th anniversary.

Slated to begin sales from April 22nd, vending machines across Japan will be stocked with special Gundam-designed Emerald Mountain Blend Coffee cans. There's a total of 25 designs featuring various mobile suits, pilots, fighters, and transport vehicles set to release over the span of four phases.

Rather than release all the cans at once, the designs will be made available in the order of the design's anime appearance. For example, the first phase includes Amuro's Gundam, Char's Zaku, Zaku II, Zaku I, White Base suit carrier, and the Musai-class vehicle. The next three phases will begin release from June.

In case you didn't want to stock pile 25 different cans of Gundam coffee, each can comes with a unique code that can be redeemed for an online copy of the digital art. There's also a special raffle for those who purchase four or more cans to win one of 100 special posters featuring an original Mobile Suit Gundam artwork.
Vending Machine Concept Art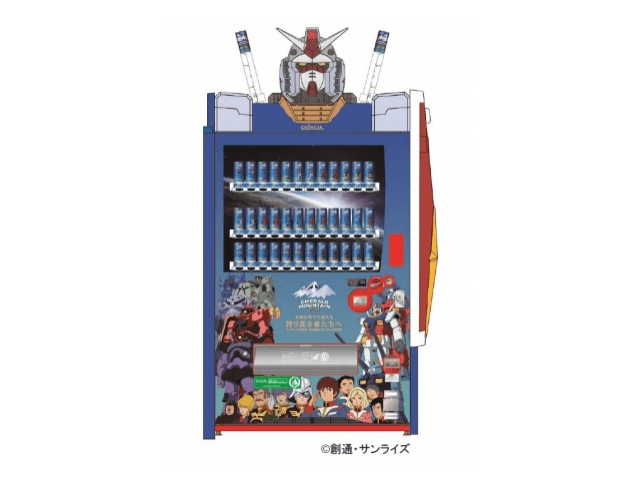 For those looking to purchase the special designed cans in Tokyo, be on the lookout for the special-edition Mobile Suit Gundam Vending machine in Shibuya Station between April 29th to May 5th. The special machine features character voices and catchphrases each time a drink is dispensed.

The drinks will begin going on sale from April 22nd, but each machine will only be stocked once per phase. Therefore, you may want to go early and stock up on each design if you're trying to complete the set. There's currently no information available if the cans will also be made available at the Gundam Base in Tokyo where the 72ft Unicorn Gundam statue protects Odaiba.

Original Source & Photos: PR Times Japan