How to use a Japanese Hot Springs Bath
Posted:
---
(Properly) Enjoy Japanese Hot Springs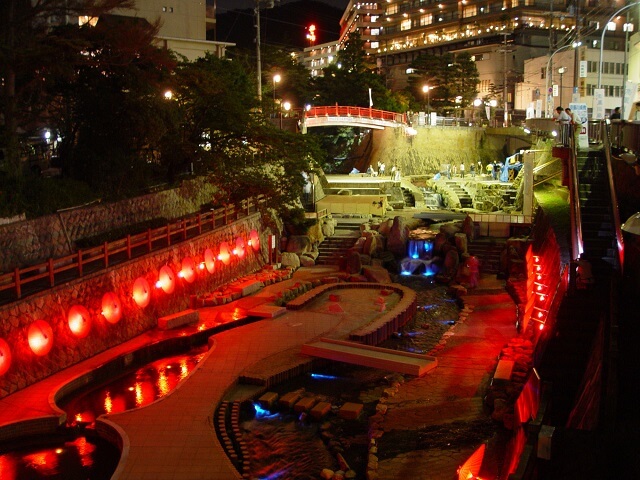 There's no questioning the benefits of a Japanese Hot Springs. Not only do they relax your muscles, but the waters can help heal various ailments depending on the concentration of minerals in the water. However, even with centuries of history, there are many who have a hard time with the thought of communal bathing. I get why some guys feel uncomfortable, but I always tell tour participants this one thing to help calm their nerves:

Client: Can we wear a swim suit? I don't want others looking at me?
Me: Unfortunately, you can't enter with a swimsuit, but if you're worried about being looked at, this is the logic I've always used: When you use a urinal, do you ever look to your right or left? Do the people next to you look at you when they go? No? Same in a Hot Springs.

Now, if you insist people are trying to look at you, I don't really know what else to say besides skip the activity or rent a private room (because the bath itself is worth the experience). If anything, your travel agent can help you book a private room need be (if available for those who are uncomfortable or have tattoos). Jokes aside, there's a few things to know before you just jump right into a Japanese hot springs!
Related Tour
Step 1 - Prep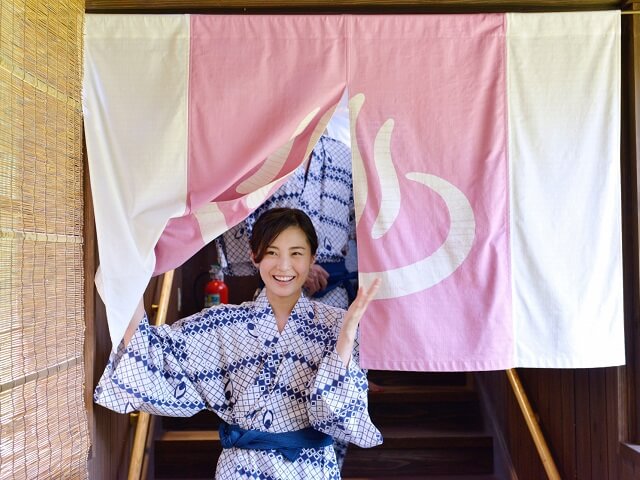 If you plan on trying a Japanese hot spring during your tour, you'll first be splitting up (all the hot-spring hotels featured on Japan Deluxe Tours use Men and Women only baths) to the appropriate sections. You'll likely see a 男 for males and 女 for females, though nowadays it's becoming more common to have signs in English and other languages next to the Japanese. Once you enter, you'll likely have an assigned area (typically based on your room number) where you can deposit your clothes and other belongings before entering the bath.
Step 2 - PreWash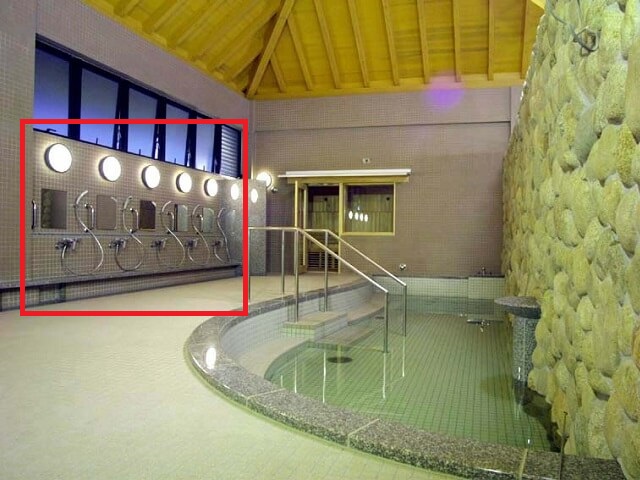 Now that you've set away your belongings in a safe spot, you might think you're ready to just enter the waters. Right? Nope. Before you enter the hot springs, it's customary to wash yourself off before hand. Not only does this keep the hot springs clean, but the act of washing helps prepare you for some of the hotter waters you may try during the experience.

Boxed in red in the photo to the right, there's always a designated area where guests can rinse themselves off before entering. Although it used to be considered acceptable to just rinse your body before entering, it is becoming more customary to use shampoo and soap before entering the water. Just remember not to let any of the water you use (especially the soapy water) into the hot springs baths.
Step 3 - Soak & Relax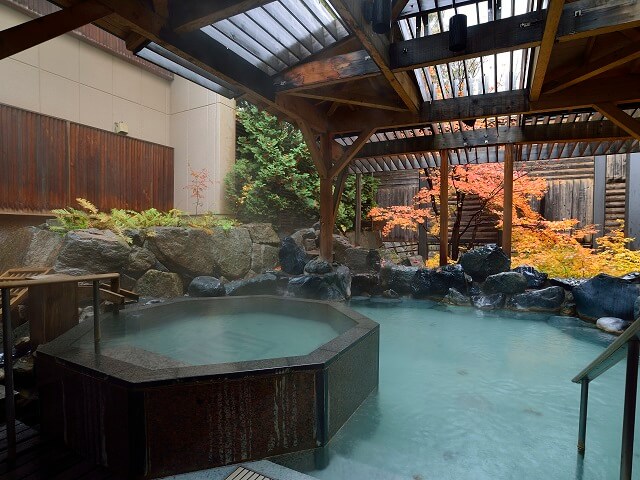 Now that you're rinsed off, you're ready to enter the relaxing hot waters. Do keep in mind, the waters at an onsen hot spring can be very hot. The typical temperatures of hot-springs are often between 40 to 44 degrees Celsius or 104 to 111 degrees Fahrenheit. This is definitely why I recommend thoroughly cleaning yourself before you enter not just for sanitary reasons, but to also get your body prepared for the waters to come.

Tip: If the waters feel a bit too hot, try entering very slowly at first. There's no need to rush, just work your way slowly in without moving around too much. Eventually, your body will likely adjust and you can relax. If you find the waters are too hot, try entering a different hot spring first or rinse again if need be.
Step 3B - Rotenburo Maybe?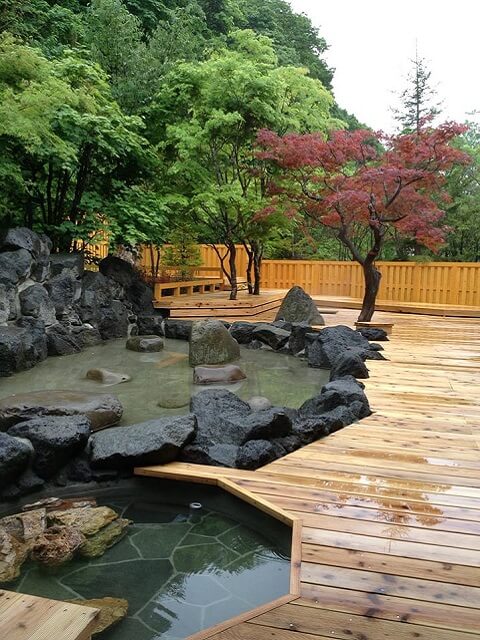 Keeping in mind of what we just said, some larger hot springs may have more than just one or two baths for guests to enjoy. If you're lucky enough to stay in a hot-springs with a Rotenburo (outdoor bath), Japan Deluxe Tours highly recommends giving the out door bathing a shot. There's nothing to fear in the terms of peeping (despite the prevalence of Japanese anime characters who try), as the walls are rather high or the rotenburo are carefully designed to be in secluded areas of the property. If you are in a hotel with a rotenburo bath, you can rest assure knowing the rotenburo was built with privacy and relaxation in mind. Although beautiful during the day, a rotenburo bath under the stars is breath taking experience to enjoy.
Step 4 - Post Wash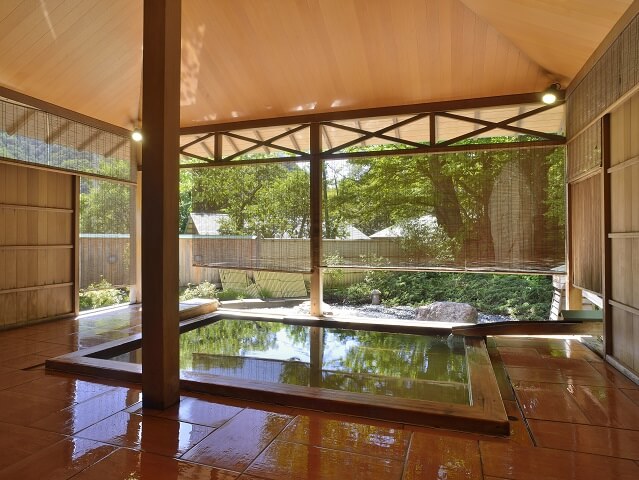 Now that you've had a nice soak, you're probably ready to get on out and return to your room. Before you leave to wipe yourself off, we recommend a quick shower before stepping out. Even though you showered before entering, it's likely the waters made you sweat a bit during your soak. Likewise, some of the waters can have a higher than normal mineral concentration depending on where you stay. It's best to give yourself a quick rinse to refresh yourself after your time in the waters. This way you can rinse off any extra waters on you and feel squeaky clean before putting on your yukata.
Step 5 - Relax with Drinks & Snacks
or Go back for More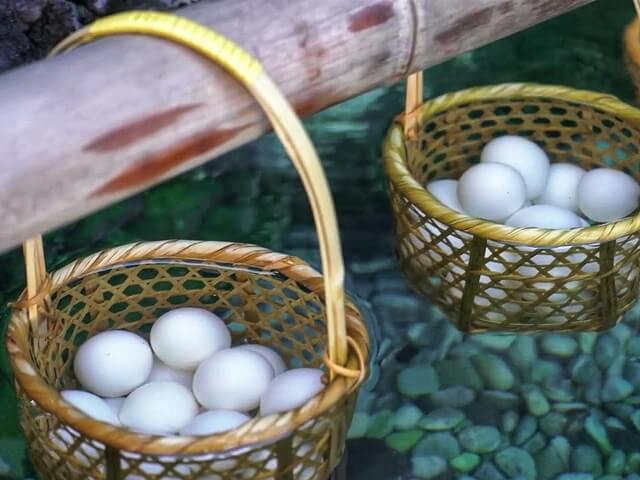 Although not required, it's often recommended to stay hydrated after your time in the hot springs. Most hot-springs have vending machines in the lobbies for guests to treat themselves to something sweet. In some cases, the changing areas for men and women will have vending machines next to massage chairs or a relaxation area.

In select regions, like Beppu for example, offer special snacks made using the heat from the hot springs. Some examples include steamed eggs, veggies, beef buns, and desserts like steamed pudding. While an ice-cold beer or soda is a nice post-onsen treat, a sweet pudding made with the volcanic waters just seems like the right way to cap your bath.
Bonus - Foot Baths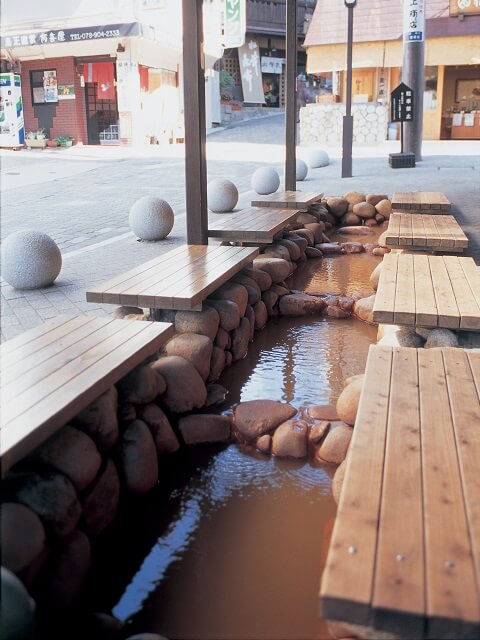 Before or after your time in the hot springs, you may opt to walk around the area to enjoy the sights and pick up a few local specialties as souvenirs for friends back home. While you navigate around the hot spring towns, you may notice a few of these small pools with seats. These are called Ashi-yu (ashi: foot; yu: bath) and are free to use for guests. Usually in a hot-springs town, there are multiple bath houses guests can select from. Think of these foot baths as a fun little Free Sample to see which waters your body reacts best to. After all, each waters at an onsen can differ slightly, so you want to find the perfect onsen for you.