Persona 5 X Sword Art Online Collaboration
Posted:
---
Twin Sword Persona?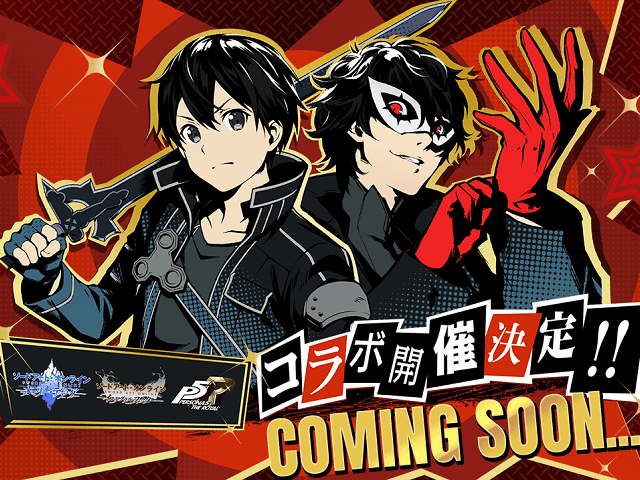 An exciting turn of events for any die-hard anime fan or video gamer, Bandai Namco is excited to announce the latest collaboration between the hit Persona 5 Royal series and two Sword Art Online mobile games (Sword Art Online: Memory Defrag & Sword Art Online: Integral Factor). There isn't much known about the collaboration yet, besides an incredible key visual featuring Kirito from Sword Art Online next to the trickster himself, Joker from Persona 5.

For those unaware, Sword Art Online follows the adventures of Kirito, a young gamer trapped in a Virtual Reality Massive Multiplayer Online game. In a virtual world where game over means death in real life, Sword Art Online follows the incredible story of Kirito's journey trapped in the virtual world, and all the follow out that comes from being the savior of those trapped.

Persona 5 (part of Atlus's greater Shin Megami Tensei universe) has exploded into a global phenomena, spawning multiple games, an anime, and even a feature as a playable character in the ever popular Super Smash Bros Ultimate games.

While there still isn't any update on the anime/video game collaboration, we are excited to see what's to come (and what kind of merchandise we can pick up during AnimeJapan.). Keep an eye out on our blog page to learn more about this awesome event coming soon.
Image from: Persona 5 X Sword Art Online Game Japan Website