Taro's Japan Tour Adventures: Japanese Pizza!
Posted:
---
Japanese Teriyaki Mayo Chicken Pizza!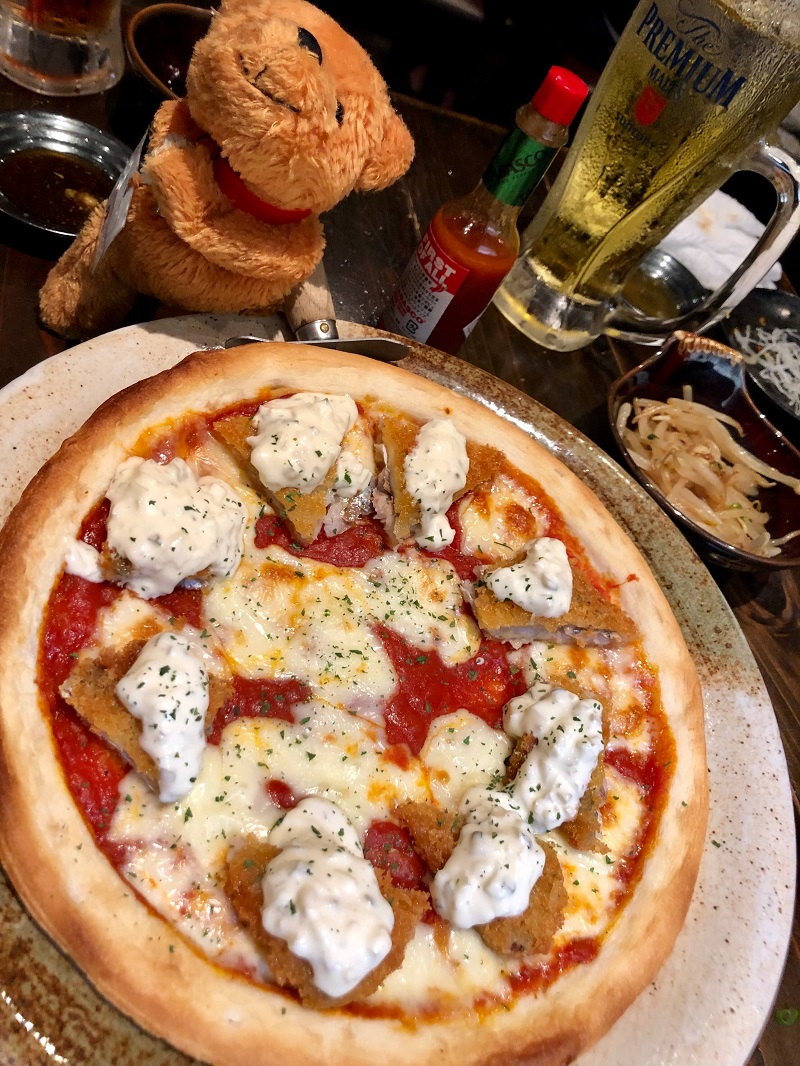 Now, I realize in the states there's a lot of buzz between if Pineapple's really belong on pizza or not. While this debate may be as intense as the Milk first or Cereal first argument, Japan skips pineapple completely and opts for some more... unique flavors. For example, during one of my recent Japan tour adventures with our group, we decided to stop by Sushisakaba Docchi, a popular sushi restaurant. Of course I love sushi as much as the next bear, but I was craving something different and noticed they offered Pizza on the menu. I decided to give it a go and ordered the Teriyaki Mayo Chicken Pizza because, well to be honest, it sounded incredible. While there was only a few of us at Sushisakaba during this small group tour, we were definitely not sure what to expect by the sound of Teriyaki Mayo Chicken, a flavor we can't usually order at our local Pizza Hut or Domino's chains. Not knowing what to expect, especially because we are a tour group at a sushi restaurant, I was eager to see what my pizza would look like. Now keep in mind, Japan is no stranger to cullinary fusions. This is a place where we can get crème brûlée crepes, convenience store rice balls, and delectable confectioneries, so I had high hopes for the pizza. The staff was rather friendly and brought out the masterpiece, which at first really looked more like katsu on top of our pizza instead of teriyaki chicken. Still, I was pleasantly surprised by how delicious the pizza was. Before I knew it, I had finished the whole thing while my tour guide and group were still working away at their sashimi meals.
A close up!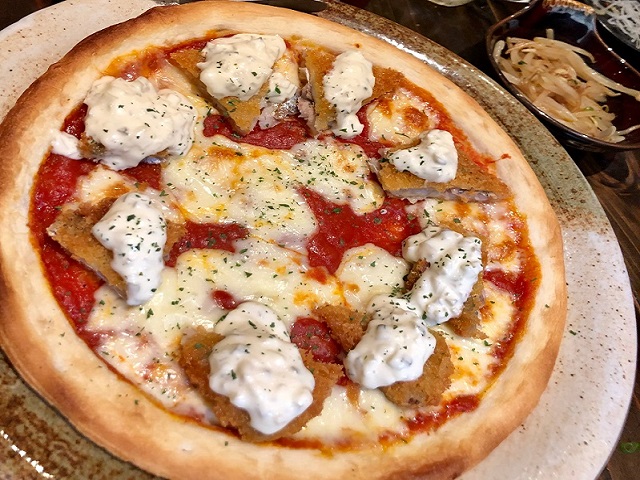 Taking another look at the pizza, I really find it hard to believe that this was a teriyaki chicken dish. However, the taste was the right blends of cheese, meat, and sauces for this pizza-fan. Next time I'm there with a Japan tour, maybe I'll give their Keema Curry pizza a shot? All I know is if you're really a pizza fan, Japan is a country filled with some of the most unique pizza toppings the world has to offer, including: Scallop Butter Soy Sauce, Spicy Bulgogi, and Avocado Shrimp to list a few. If you're a foodie and this sounds like a dream come true, maybe plan out a private or custom Japan tour package with your fellow foodie friends to find the fantastic flavors found exclusive to Japan. You may not feel like you're on a luxury trip after shoveling slices after slices of pizza, but really who doesn't have a dream vacation where all they do is go around and eat? Hopefully today's post didn't make you too hungry, but if it did, maybe make a Teriyaki Mayo Chicken pizza for yourself at home or skip the trouble and come on a Japan tour to try it out yourself!

For More information about Sushisakaba Docchi, access their online website for locations, menu, and hours.