Taro's Japan Tour Adventures: Mitsuya Cider Pear Edition
Posted:
---
A Sweet Update to a Classic Favorite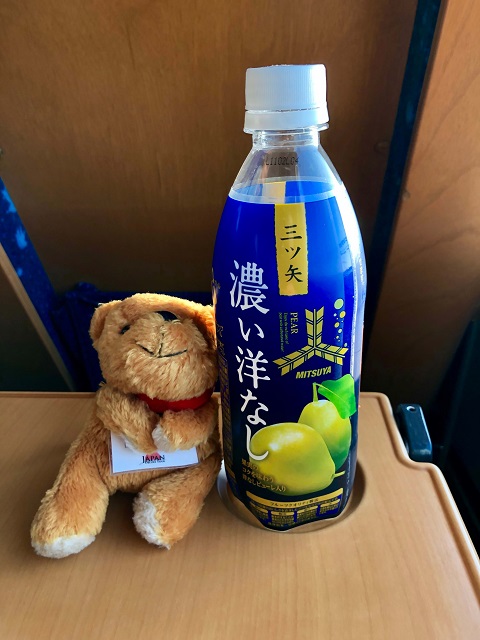 A little while ago I mentioned how I found a special Strawberry edition Calpis during my tour. I'm back again to share another great find, this time it's the special Mitsuya Cider Pear Edition.

For a quit background, Mitsuya cider is a carbonated beverage produced by Asahi Soft Drinks since 1884. Rather than the cider we may be used to in the United States, in Japan cider refers to a cross between Sprite and Gingerale. Similar to the Japanese favorite Ramune, Mitsuya Cider is one of the top soft-drinks enjoyed by the Japanese.

During a recent tour with Japan Deluxe Tours, I decided to grab some drinks before we boarded our shinkansen from Kyoto to Tokyo. While I meant to grab a regular bottle because Mitsuya Cider's a great stomache ache home reamedy (you can never be too careful), I grabbed this special bottle instead.

Dubbed the Mitsuya Cider Pear Edition, this special bottle of Mitsuya Cider is enhanced with the flavors of dark pear throughout the bevrage. The flavors aren't overpowering and compliment the smooth cider soda perfectly. It was unusually hot this day which made the cider even better. Pears are a popular fruit in Japan that, like most fruits in Japan, can be rather expensive. This unique Mitsuya Cider is a great way to get the flavor of a fresh Japanese pair without having to hit a supermarket.

On the official Taro Review Scale, I would rate the Mitsuya Cider Pear Edition a solid 9/10. If anything, a few sips of this made me wonder how good it would be as a mixer with a nice Japanese whiskey or with a chu-hai. Either way, I'll be buying another bottle of Mitsuya Cider Pear the next time I'm in Japan!