Taro's Japan Tour Adventures: Amaou Calpis!
Posted:
---
Japan's Best Strawberries meet Japan's Best Soft-Drink!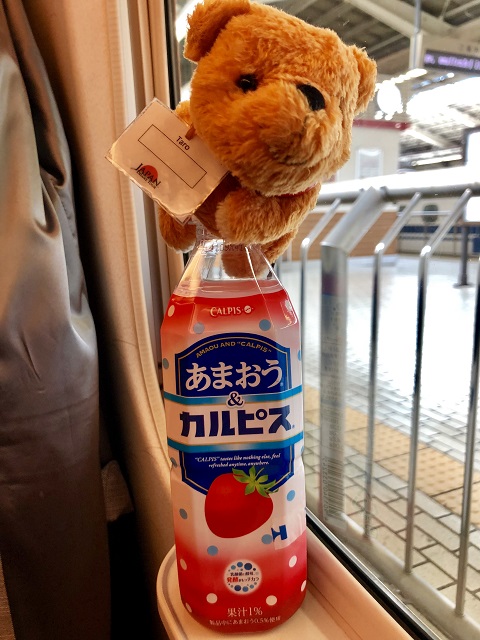 Whenever it's time for a ride on the bullet train, I always make sure to stock up extra on goodies like tatsy popcorn and chips and rice balls in case I get hungry on the ride. The bullet train does have a person who sells snacks and drinks during the ride, but it never hurts to come prepared (and kill time at the station) by browsing through a platform's convenience store before you board your train.

As I was browsing the usual sweet drinks and beverages, I came across a unique pink/red and white bottle of Calpis. This was no ordinary bottle from what I could tell and the labeling confirmed my suspicions. Called Amaou & Calpis, this special Calpis blends the flavors we've all come to know and love from Calpis with the extra sweet and delicious taste of Amaou strawberries!

If you've never heard of Amaou strawberries before, they're a special breed of strawberries grown in Fukuoka known for their plump size and sweetness. I did a little research and found out Amaou strawberries are exclusively grown in the Fukuoka prefecture thanks to the region's temperate climate. These massive, well-round berries are known for having a lighter acidity profile, resulting in a very sweet, large strawberries enjoyed all around Japan, Hong Kong, China, Korea, the U.S., Russia, Thailand, Taiwan, and Singapore. In addition to their sweet flavors, Amaou strawberries are said to be great for your skin, full of vitamin C, are an excellent source of potassium and fiber, and are certified by the Guinness Book of World Record's as the world's heaviest strawberry. In fact, Amaou get's its name from the first letters of four words: Akai (red), Marui (round), Oooki (big), and Umai (delicious). It's no understatement to say these are Japan's most famous strawberries!
Amazing Tastes!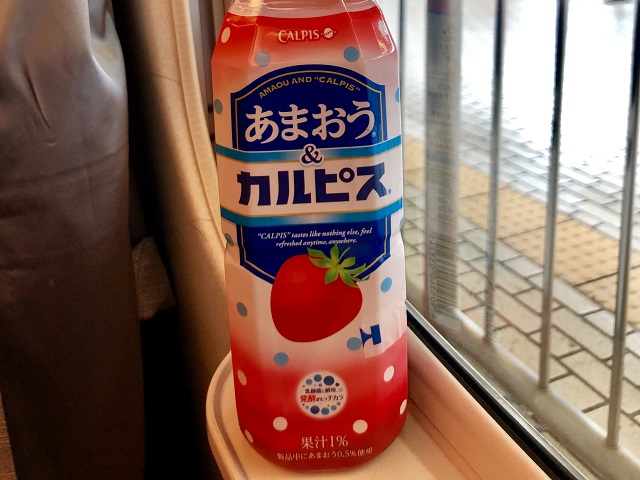 So after reading how amazing Amaou strawberries are, I'm sure it comes as no surprise to say the Amaou X Calpis flavor was an instant hit. The sweetness from the strawberries matched perfectly with the Calpis without being overly powerful. Rather than expecting an overwhelming flavor of strawberries and sweetness, I was glad that the drink provided a harmonious blend between the tastes. Sipping on the Amaou X Calpis during our Japan tour's bullet train was the perfect combination of relaxing and enjoyable. While I am a huge fan of various collaborations (and given Japan never has a shortage of them), this collaboration is definitely at the top of my list for recommendations. There have been some memorable collaborations for Calpis before, but I think the Amaou X Calpis is one of the best to try during your Japan tour's bullet train ride!