Taro's Japan Tour Adventures: Sanuki Udon
Posted:
---
Shikoku Specialty!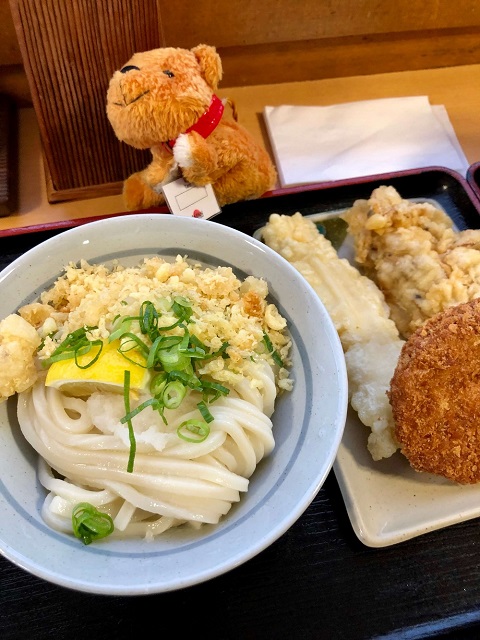 I've mentioned some of my Southern Japan Tour adventuress with you all in the past, but with my recent article about the foods in Hokkaido, I wanted to share another great gem featured on Japan Deluxe Tour's fully-guided Southern Japan & Grand Tour packages. Today's topic: the regional specialty, Sanuki Udon!

Not to be confused with tanuki udon, Sanuki Udon is a special variant of the popular thick udon noodles found in the Shikoku region. Instead of the typical rounded, thick shape, Sanuki Udon is characterized by the square shape and flat edges. While Sanuki Udon used to be a Shikoku specialty, it's popularity has led it to become a fixture in udon shops around the world. In fact, the udon-themed anime Poco's Udon World even featured the Shikoku-style noodles.

Made with wheat flower like standard udon noodles, Sanuki Udon has a great taste to it's unique texture. It's a bit more firm than regular udon or the Yamanashi hoto variant. My order came with a generous side of tempura to enjoy while I slurped my noodles up. The light, crispy tempura was the perfect compliment to my noodles and I ended up finishing in about 10 minutes!

Our udon lunch was served on the final sight-seeing day of our small group tour. I was told in the Kagawa region where we had lunch was famous for it's udon. In fact, the prefecture is often nicknamed Japan's Udon Prefecture. The area is home to around 700 udon shops as well as schools and studios that offer classes on how to make authentic Sanuki Udon.

While I probably won't be joining a cooking class anytime soon, I would be open to learning how to make sanuki udon. This way, I can have a delicious bowl of udon noodles whenever I want. Interested in trying sanuki udon for yourself? Check your local udon-shop or join us on our next Southern Japan tour through Shikoku for fresh noodles in Japan's Udon Prefecture!