Taro's Japan Tour Adventures: Takoyaki Pringles!
Posted:
---
Osaka Favorite meets American Classic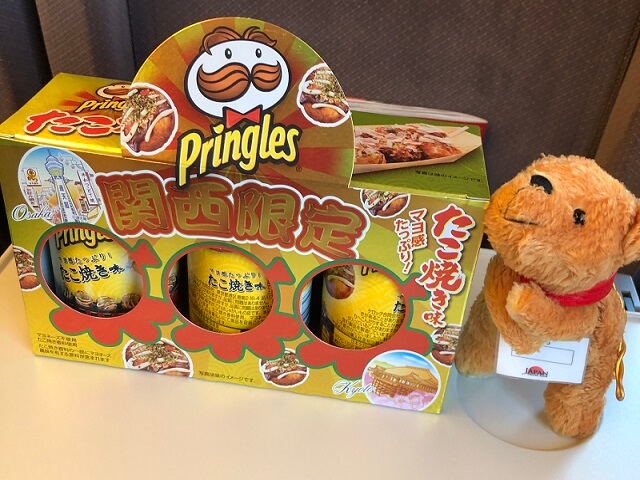 If you've been keeping up with my adventures in Japan, you know I'm a sucker when it comes to limited-time collaborations & special edition snacks. There's something about a Special Edition that makes me want to try something right away before it's removed from shelves forever. For the most part, I do a good job controlling myself from going too crazy. However, on a recent tour in Osaka I found something that blew my mind!

I've spent a good amount of time in the United States, and one of my favorite chips has got to be a can of Pringles. It's nothing to do with the less air argument and more of the I can throw it in my backpack and it probably won't get crushed logic. A can of Pizza-flavored Pringles goes by pretty fast when they're in my paws. During my time in Japan, I like to grab snacks for my flight home when a peculiar pack of Pringles caught my eye.

Decked in a golden-yellow similar to my fur, I noticed a three pack of Takyoaki Pringles at a convenience store in Osaka. For those who don't know, Takoyaki is a style of cooking octopus. This dish is considered the Osaka snack, so a Pringles version really caught my attention. Having family from Osaka myself, I have plenty of memories of eating fresh takoyaki with my family. Before I knew it, I had bought two boxes!
Another Great Find!
I couldn't help but open up the box on the flight and sample these new Pringles. Each package had little takoyaki being prepared by a Pringle's chip dressed as a takoyaki chef. The can's weren't too big, and stacking the three together looks about the same as a regular-size can of pringles. I couldn't resist but open up a can and try it out.

To no surprise, the Takoyaki Pringles were the right level of octopus and seasoning for a potato chip. If I put these in the microwave, I could have sworn I was eating a crunchy takoyaki! I have some friends back in the states who also have family from Osaka, so I'm sure they would love this as an omiyage.

Some friends of mine tried out the Takoyaki Pringles I brought and, while they were shocked to learn it was octopus flavor after trying, they seemed to really enjoy it. I guess it's just another example of the novel creativity Japanese snack makers bring to keep us buying their products? Either way, Takoyaki Pringles should go on your list of souvenir options when your Japan tour ends in Osaka & Kyoto!