First Japan 2020 Cherry Blossom Forecast Announced!
Posted:
---
2020 Japan Cherry Blossom Forecast
1st Announcement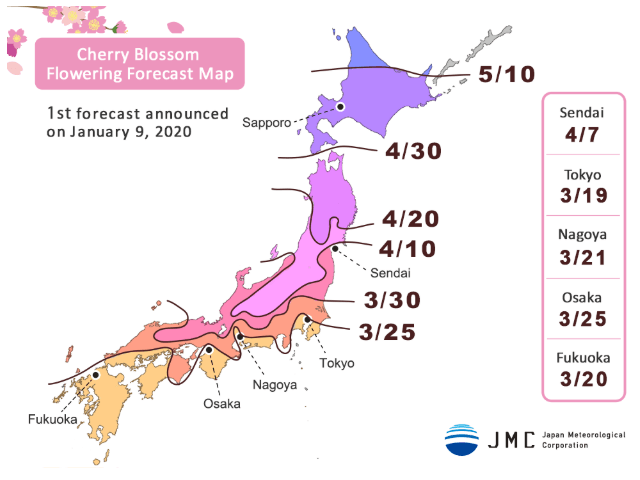 Japan Deluxe Tours is pleased to announce the Japan Meteorological Corporation has officially released the first Japan 2020 Cherry Blossom Forecast as of January 9th, 2020. Unlike last year which saw the blooming in Tokyo around 3/22, Tokyo 2020 is set to start a bit earlier, predicted to bloom around March 19th.

Last year was a rather strange spring, where low temperatures delayed the flowers from blooming in select regions. This resulted in an unusual blooming pattern, though it worked out for most of our tour participants travelling on April tours. Similar to last year, it seems late March to mid April are the optimal times to enjoy the blooming cherry blossom flowers. Looking at the current schedule, Japan Deluxe Tours would highly recommend our Takayama Festival Japan Tours series through the highlights of Tokyo, Hakone, Kyoto, Nara, with time spent in the gorgeous mountain village of Takayama.

We hope you're excited for the upcoming cherry blossom season to enjoy the national flower of Japan. For more information about the cherry blossom forecast, check our Cherry Blossom Forecast page regularly or the Japan Meteorological Corporation to stay up to date with the Japanese cherry blossom flowers.
Similar Flower Japan Tours
Related Tour