8-Layer Ice Cream!!
Posted:
---
Daily Chico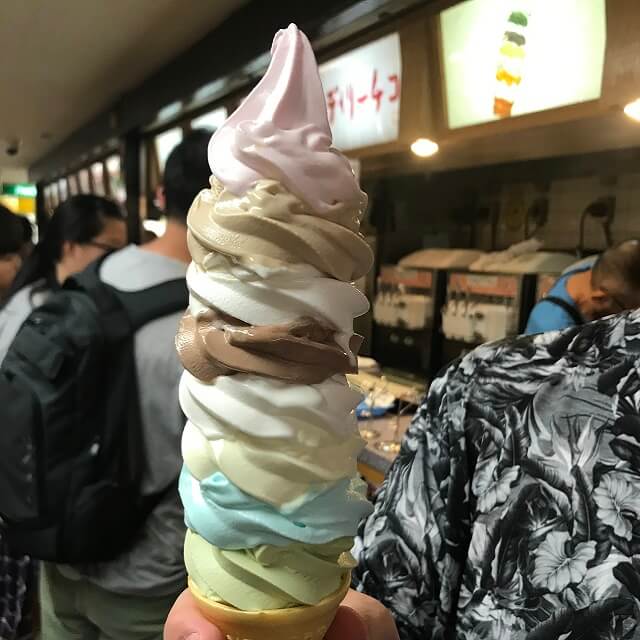 It's safe to say there are a lot of snack options to enjoy during your Japan Tour. Whether you want a light rice-ball to hold you over between sights or a full course Japanese wagyu beef meal, we here at Japan Deluxe Tours just can't help but appreciate all the delicious flavors the country has to offer. If you have a sweet-tooth like some of our tour guides, then do we have the snack for you.

Located in Tokyo Nakano Broadway (featured on all of our fully-guided Anime Tours) is Daily Chico, home to an amazing 8-Layer Ice Cream!! Found on the basement floor of Nakano Broadway, Daily Chico has grown to fame in the anime dominated shopping complex with this fine treat. Often posted on Instagram by our tour participants, it's easy to see how captivating this frozen treat can be.
8-Layers of Amazing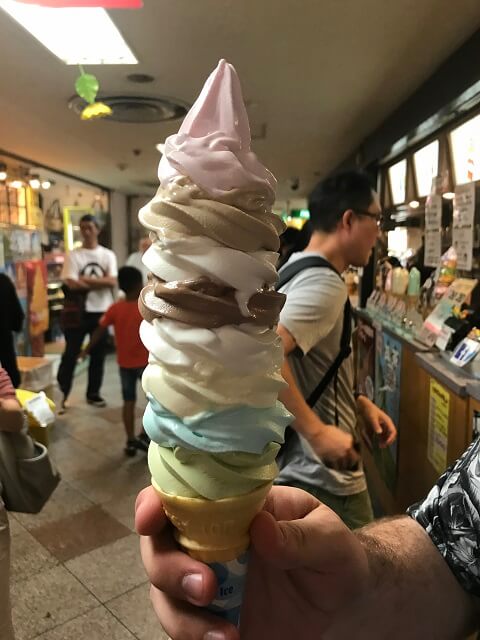 From the top, Daily Chico stacks their ice-cream with a tasty strawberry, mocha, vanilla, chocolate, grape, melon, ramune, and matcha green tea on the base above a sweet, crunchy cake cone. Although the treat is rather popular among tourists and locals, the turn-around is fairly quick thanks to the skilled staff. If you're visiting Nakano Broadway with Japan Deluxe Tours, your tour guide will likely lead you to Daily Chico (and even take a photo or two if you ask nicely).

Please keep in mind: while your inner 7-year old may want to grab this all for yourself, we recommend splitting the 8-layer ice-cream with one of your friends along the tour. Although the photo to the side makes it look manageable, there really is quite a punch to this treat. In fact, not all of our tour participants can even finish the dessert. This reporter was about to try, but decided against it after seeing just how much ice-cream there really was. Are you up for the task?
Anime Packages featuring Nakano Broadway
Related Tour