New Tour Spotlight: Kawachi Wisteria Garden Tour
Posted:
---
Kawachi Wisteria Garden & Hiroshima | Spring Japan Tours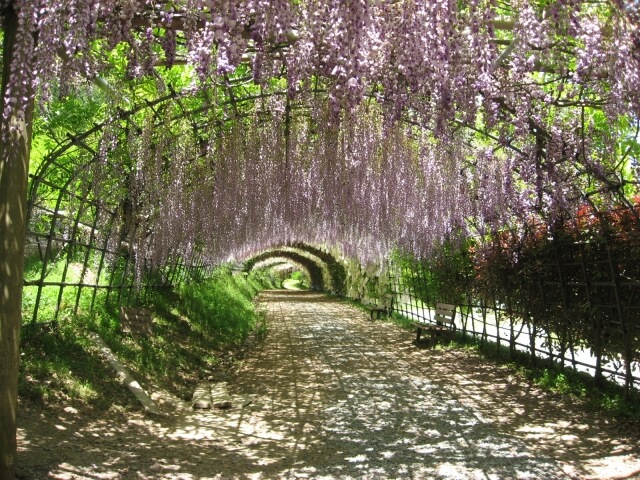 As the cooler months of Winter come to an end, Spring in Japan is marked with warmer weathers, seasonal snacks, and of course, the iconic cherry blossom flowers loved by the Japanese and travelers from around the world. Though seeing Japanese cherry blossoms is on the bucket list of almost every traveler around the world, every now and again is there an activity or destination in Japan worth exploring at the expense of maybe missing the sakura flowers. For the local Japanese people, especially those in Southern Japan, opting out of the traditional sakura hanami cherry blossom viewing parties is acceptable if you plan to hit the illustrious Kawachi Fuji Gardens in Kitakyushu. Made famous thanks to numerous Instagram posts and travel blogs, the Japanese flowers and garden grounds of Kawachi Fuji Gardens has grown to become one of the top tourist destinations in all Japan for flower enthusiasts and travel junkies alike.

Launching under our best-selling flagship line of guided Cherry Blossom Japan Tours, Japan Deluxe Tour's new Essence of Spring | Kawachi Fuji Wisteria Garden & Hiroshima package covers the time-tested, highlight destinations Japan has to offer. This means your tour still spends two days exploring the traditional Japanese culture and customs of Kyoto, see views of Mt. Fuji from the hot-springs town of Hakone, bow to a deer or two in Nara, & discover the untold stories of World War Two in Hiroshima's breath-taking Peace Memorial Museum (Japan's Top-Pick Museum). Enjoy all of these before we head to Kitakyushu to explore the grounds of Kawachi Fuji Wisteria Garden.
Japanese Flowers | Nature Vacations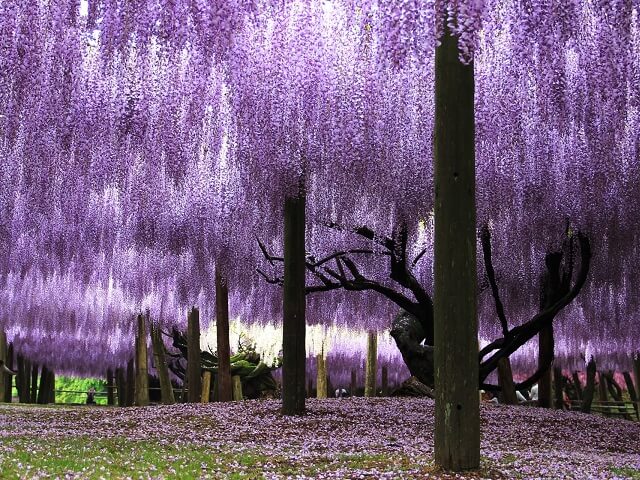 As standard with all of our tours, travel Japan with peace at mind as you are led by your government licensed tour guide & separate driver in a tour bus with complimentary Wi-Fi. When you aren't traveling on the tour bus, your vacation includes a Bullet Train Ride between Tokyo and Kyoto, as well as a scenic rope-way ride for views of Mt. Fuji from the hot-springs town.

This tour also includes daily breakfast buffets, in addition to select meals to showcase Japanese cooking. Enjoy a mouth-watering teppan-yaki Japanese grill (featuring Wagyu Beef), try conveyor belt sushi, and give Hoto (Yamanashi Prefecture's take on Udon noodles) a shot. There's also the Green Tea Ceremony and a meal with a Maiko (apprentice Geisha) to give you more than just the ordinary sights offered on all the other Japan tours out there.

Interested in seeing the colors of Kitakyushu's wisteria gardens? Japan Deluxe Tours has packages set up for Spring 2020 with departure dates listed in April. You can also ask your travel agent about our day trips and excursion add-on's to customize a Southern Japan tour or Grand Tour to include the flower gardens after your package with Japan Deluxe Tours.
Similar Vacation Packages
Related Tour